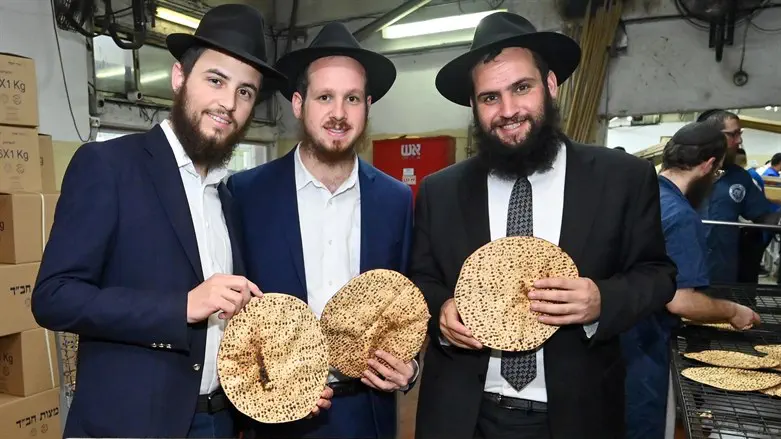 Preparing for Passover in the UAE
courtesy Jewish UAE
'
The Jewish community of the United Arab Emirates is prepared for the holiday, where a festive joint Passover Seder is held in both Dubai and Abu Dhabi, under the leadership of Rabbi to the UAE Rabbi Levi Duchman. The holiday feast is being conducted in multiple languages, including Hebrew, English, French, and Russian, with the participation of community members and senior local guests.
To celebrate the holiday, the local Jewish community arranged for a special shipment of carefully prepared Matza Shmurah that meet the highest kosher standards, which will be served on Passover eve. This year, members of the local Jewish community, as well as the many Jewish visitors in the UAE, will also have the opportunity to enjoy kosher products for Passover at "Rimon," the first kosher supermarket in the Gulf region, which recently opened in Dubai.
Just before the holiday, Rabbi Duchman paid a cordial visit to local officials and the religious leaders of the various local communities, to greet them on the upcoming festive period of Ramadan, Easter and Passover, and presented them with a special gift to share with them the values and tradition of Passover.
Rabbi to the UAE Rabbi Levi Duchman said: "For thousands of years, we have come together on this momentous evening to tell the story of the Jewish people. We are blessed to gather here in the United Arab Emirates, which we call home, surrounded by our community and honoured guests from around the world. We are grateful for the warm and generous support our community has received from Emirati leadership, which champions coexistence and tolerance for people of all faiths. United, we honour the past and build a bright future of harmony and peace."
The UAE has warmly welcomed the local Jewish community established by Rabbi to the UAE Rabbi Levi Duchman, already back in 2014 when he first arrived in the Emirates. Since then, Rabbi Duchman has founded through the organization "Jewish UAE" numerous places of worship, government-licensed Kashrut, Jewish education system from early age to adults with a nursery, Hebrew School, Talmud Torah and programmes for adults in both Abu Dhabi and Dubai, relocation support, business networking and rich community life. The Jewish community enjoys strong support from UAE leadership, openly celebrating Jewish holidays with the growing flow of Jews and Israelis to the Emirates.