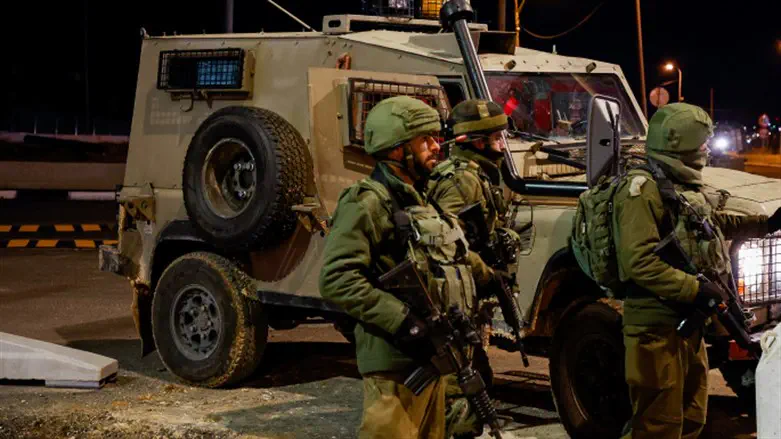 Gush Etzion
Gershon Elinson/Flash90
The IDF has confirmed that three soldiers were injured in a terrorist ramming attack on Saturday evening near the town of Beit Ummar in Gush Etzion, south of Jerusalem. According to the IDF, one soldier was severely injured, an additional soldier was moderately injured, and a third was lightly injured.
The terrorist was eliminated.
The three victims were taken to Jerusalem's Hadassah Ein Kerem and Shaare Zedek hospitals.
According to Palestinian reports, the terrorist in Mahmud Raaud Naif Biradaia, 23, a member of the Palestinian Authority security forces from the village of Surif near Hebron.
Ariel Rabi and Eli Gertener, MDA paramedics who tended to the wounded, recalled: "When we arrived at the scene, we saw three young men, around the age of 20, laying, fully conscience, with wounds to their limbs. We administered immediate medical care at the scene, including bandages and medicine, and with the help of an IDF medical team, we evacuated them to the hospital in severe, moderate, and minor conditions.
Gush Etzion Regional Council Chairman, and Yesha Council Head, Shlomo Ne'eman, responded to the attack: "Once again, our enemies raised their heads, and tried to murder Jews, just because they are Jews, and reminded us of the palpable threats against us. It's unfathomable how a religious holiday [Ramadan] turns into a holiday of terrorist attacks. We will continue to build and develop throughout Judea and Samaria and travel on Israel's roads without fear. We wish those injured a speedy recovery and will pray for them."
Yisrael Beiteinu chairman MK Avigdor Liberman, who lives in the area, commented, "I wish (those who were wounded) a speedy recovery, and congratulate the Givati Brigade soldiers and the IDF on the elimination of the despicable terrorist."
Opposition head Yair Lapid stated: "A severe terror attack in Gush Etzion this evening. I send my wishes for a speedy recovery to the wounded and support to their families. Terror has to be dealt with a heavy hand, and consistently, I trust the security forces to continue to work with determination against terror and to restore peace for the residents."
On Friday evening, Border Police officers on the Temple Mount in Jerusalem killed Muhammad al-Saibi, a 26-year-old medical student from the Israeli Arab town of Hura, after he attempted to steal a weapon from one of the officers.
According to officers at the scene, al-Saibi took the weapon, pointed it at the head of one of the officers, and opened fire in the direction of additional officers.
The attacks come two weeks into the Muslim month of Ramadan, a time that has seen an uptick in terror incidents in the past.