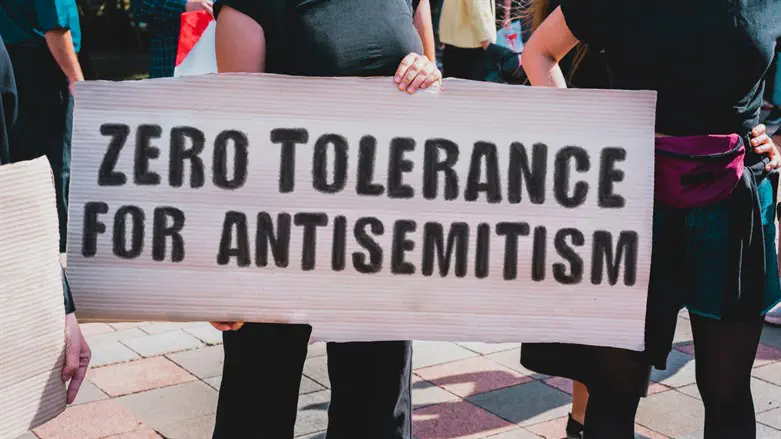 Antisemitism
ISTOCK
Former heavyweight champion boxer Mike Tyson has joined Robert Kraft's "Stand up to Jewish Hate" campaign that asks social media users to use a blue emoji to demonstrate their support of the Jewish community in the face of growing antisemitism in the United States.
Tyson joined NFL quarterback Tom Brady in endorsing the campaign in an Instagram post this week.
"Hate has no place in this country. We must put an end to antisemitism, together. Share your support for the Jewish community by using #[blue emoji] to #StandUpToJewishHate," Tyson posted on his Instagram account, along with a fact sheet from the campaign that said, "Nearly 70% of all Jewish Americans faced antisemitic hate online last year."
Jewish New England Patriots owner Kraft announced on Monday the launch of the "Stand up to Jewish Hate" campaign which aims to combat antisemitic attacks occurring across the United States through the use of the blue emoji in solidarity with the Jewish community.
The campaign by Kraft's Foundation to Combat Antisemitism, was created by the Kraft family through a $25 million grant. It will establish the blue square emoji as a "simple, but powerful symbol of solidarity and support for the Jewish community."
"Antisemitism is not just the Jewish community's issue. It's everybody's. Retweet this video with #[blue emoji] to show your support," Stand Up to Jewish Hate tweeted, announcing the initiative.
Kraft told CBS News that the US is at a "danger point" regarding historic levels of antisemitism.
"We're looking for people to partner with us and use this emoji on their iPhone and their iPad and maybe wear the blue square as a sign of solidarity and building bridges and bringing people together with love and support," he said.
Tyson previously showed solidarity with the Jewish community by visiting the Warsaw Ghetto in June 2019.
Tyson was in Poland as a guest of FoodCare, a food manufacturer in Poland that sells around all the world, including Israel.Tyson was their presenter and promotional face of their brand "black energy drink."
As part of his trip, Tyson requested to visit the POLIN Jewish Museum, the Warsaw Ghetto Memorial, and the Museum of the Warsaw Uprising.
Tyson was accompanied during the tour by Jonny Daniels, President of From The Depths, who made a movie with Tyson in 2018 about the Warsaw Ghetto Uprising.