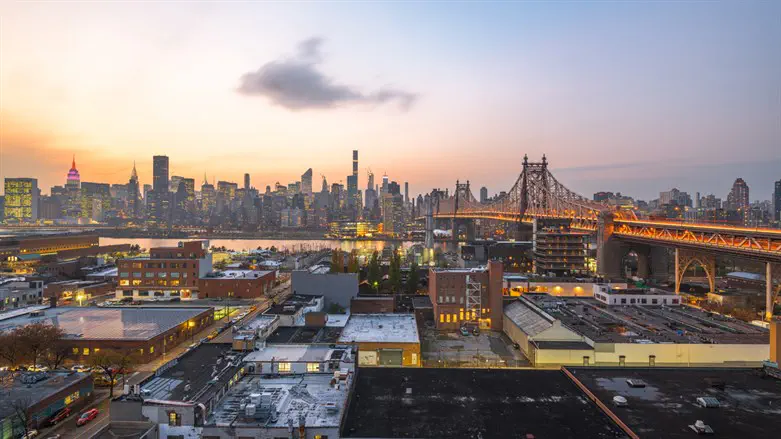 Queens, New York
ISTOCK
The NYPD is searching for a suspect accused of committing at least six recent antisemitic incidents in Queens, New York, CBS News reported.
The incidents include a swastika found on Wednesday carved into a sidewalk near the entrance of a synagogue and six or more other antisemitic acts in the Forest Hills and Rego Park areas of Queens that have taken place since March 18, according to the NYPD.
They added that the man allegedly targeted with anti-Jewish vandalism the Reform Temple of Forest Hills, apartments buildings, a junior high school and the NYPD 112th Precinct building.
Last week, the NYPD said it was investigating two of the incidents of antisemitic vandalism in Queens as probable hate crimes, placing the NYPD Hate Crimes Task Force in charge of the probe.
The cases involved two swastikas drawn on the sidewalk and street outside J.H.S. 157 Stephen A. Halsey middle school in Rego Park and antisemitic graffiti found on a sidewalk in Forest Hills.
On March 21, Hevesi, Queens Rep. Grace Meng (D-NY), Queens Councilwoman Lynn Schulman, and state Senators Joseph Addabbo Jr. and Leroy Comrie denounced the vandalism in a statement.
"Our local leaders and fellow neighbors will never become complacent in the face of such vile acts of hate," the lawmakers said. "We remain strong in supporting one another, and condemn these acts of antisemitism and cowardice for what they are."
They added: "We remain confident that the perpetrators will be found and prosecuted, as they have been time and again."
While the ADL released a report last week that found New York City had the most antisemitic incidents in the US in 2022 at over 60 percent of the country's total, incidents in Queens decreased slightly in 2022 from the previous year.