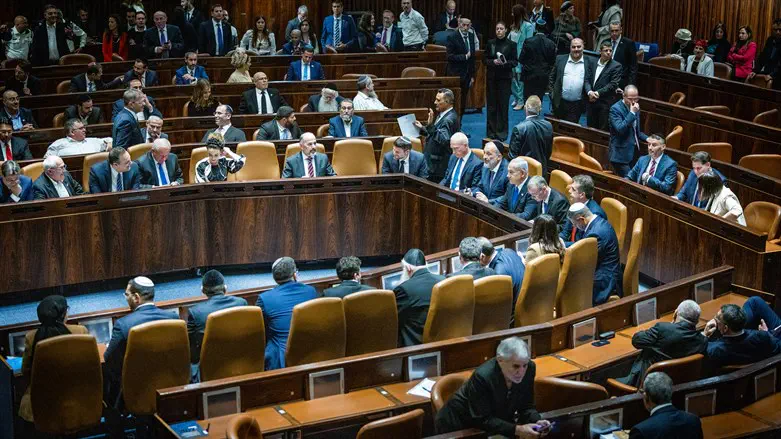 Knesset plenum
Yonatan Sindel/Flash 90
The Knesset plenum approved the budget law for the years 2023 and 2024 in its first reading early Tuesday morning. The law was approved by a majority of 41 supporters against 32 opponents.
The Arrangements Law for the next two years was approved in its first reading as well. The Arrangements Law is a government-sponsored bill presented to the Knesset each year alongside the budget. It incorporates government bills and legislative amendments that are needed in order for the government to fulfill its economic policy.
The vote in the Knesset took place hours after Prime Minister Benjamin Netanyahu announced that the legislation of the judicial reform will be paused for the time being.
"For three months, I have called for dialogue. I also said that I would leave no stone unturned in order to reach a solution. Because I remember, we remember, that we are not facing enemies: we are facing our brothers. I say here and now: we must not have a civil war," he said.
"We are now on a path towards a very dangerous collision in Israeli society, which jeopardizes the basic unity between us, and such a crisis obligates all of us to act responsibly," continued Netanyahu.
"Out of national responsibility, out of a desire to prevent a rift in the nation, I have decided to postpone the second third reading of the law in this session of the Knesset in order to give time to try to reach a wide agreement on the legislation in the next session of the Knesset. This way, we will bring about a reform that will restore the balance which has been lost, while maintaining and even strengthening human and individual rights," he declared.
Following Netanyahu's announcement, President Isaac Herzog spoke with the Prime Minister, opposition leader Yair Lapid and the chairman of the National Unity Party, MK Benny Gantz.
The President welcomed the initiative to start an immediate negotiation process that will be launched under the auspices of the President's Residence, in an attempt to reach a broad agreement. The President requested that working teams be established on behalf of each side for this purpose.
Gantz, meanwhile, spoke with Netanyahu on Monday evening and welcomed the stoppage of the legislation. During the conversation, Gantz called on Netanyahu to keep Defense Minister Yoav Gallant in his position, which Gantz said was "essential for national security and to calm the spirits at this time."