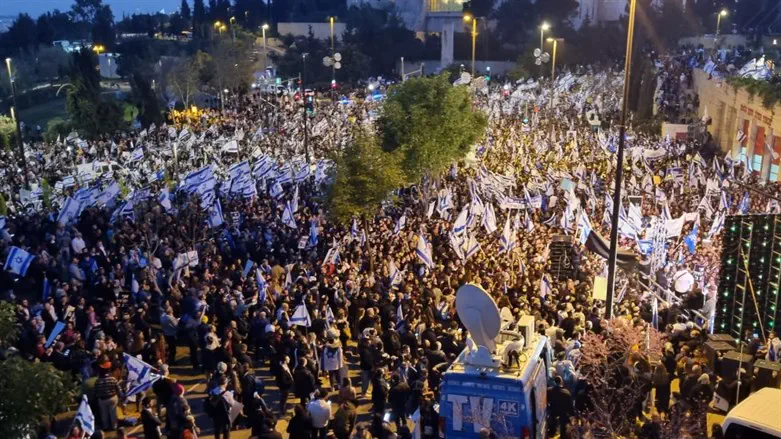 Right-wing protest in Jerusalem
Spokesperson
Members of Knesset and ministers from the coalition came on Monday evening to the huge right-wing demonstration that was held near the Knesset building, and called to continue the legislation of the judicial reform.
Minister of National Security Itamar Ben Gvir spoke about his meeting with Prime Minister Benjamin Netanyahu, in which he discussed the postponement of the legislation, saying, "I really don't like it, the Prime Minister promised me that in a month, if he fails to reach a compromise, he will go back to the legislation. There is an option of dissolving the government, but I don't I want to give the left a gift. I'm saying simply, look how many people want reform now."
Finance Minister Bezalel Smotrich said at the demonstration of support, "Look at the strengths, the quantities, this is the majority of the people. There will be a reform, there will be an amendment to the justice system."
MK Almog Cohen (Otzma Yehudit) said, "I don't like this thing, but the other choice we had was to have no government at all or a government with Gantz. What is behind us here is a show of fighters who are proving that they are not suckers."
Cohen commented on the protesters against the judicial reform and stated, "They don't know us. We don't intend to give up our principles even by one centimeter."
Minister May Golan (Likud) declared, "We are not caving or giving up. It is true that there is serious violence in the streets, but neither the Prime Minister nor the Minister of Justice will give up on the justice and truth of over two and a half million voters who know what they want and we promised them this reform."
She explained, "But we also have a responsibility to do it the right way, and believe me, there are enough ideological and value-minded people here who will not give up on this matter because the tens of thousands of people you see are not second-class citizens and, with God's help, we will fulfill our commitment to them."
Communications Minister Shlomo Karhi said, "We are strengthening Prime Minister Netanyahu and Justice Minister Yariv Levin who will make the right decision with God's help. We are not stopping, the reform will pass, we will fix the judicial system. Even if there is a delay of a day or two, we are on it."
Hebrew video: