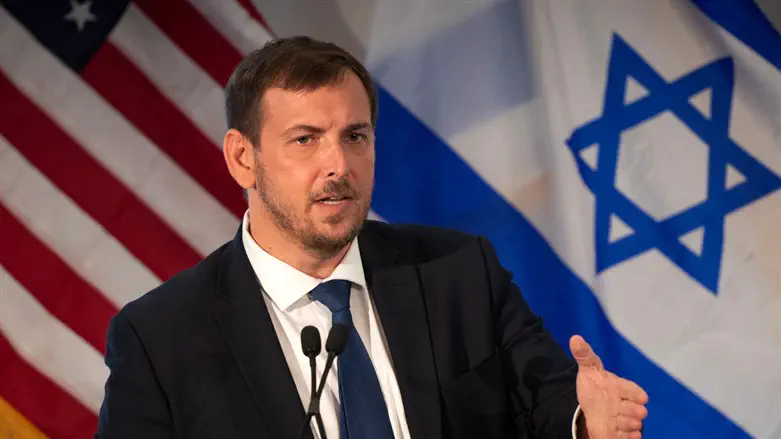 Asaf Zamir
Shahar Azran
Israel's Consul General in New York, Asaf Zamir, announced on Sunday evening that he is resigning from his post, following the dismissal of Defense Minister Yoav Gallant.
"The past 18 months as Israel's Consul General in New York were fulfilling and rewarding, but following today's developments, it is now time for me to join the fight for Israel's future to ensure it remains a beacon of democracy and freedom in the world," wrote Zamir on Twitter, and attached a letter he had written announcing his decision.
In the letter, Zamir wrote, "The political situation in Israel has reached a critical point, and I feel a deep sense of responsibility and moral obligation to stand up for what is right and to fight for the democratic values that I hold dear. Today's dangerous decision to fire the Minister of Defense, convinced me that I can no longer continue representing this Government. I have become increasingly concerned with the policies of the new government, and in particular, the judicial reform it is leading. I believe that this reform undermines the very foundation of our democratic system and threatens the rule of law in our country. This is a pivotal moment in Israel's history, and while my time at the consulate has been fulfilling and rewarding, I believe that it is now time for me to take action and join the fight for Israel's future alongside fellow citizens as we work together to build a better, more just and more equal Israel."
"My decision to resign should not be seen as a rejection of Israel or its people. On the contrary, I am taking this step because of my deep love for my country. As a proud Israeli citizen, I believe it is my duty to ensure that Israel remains a beacon of democracy and freedom in the world," continued Zamir.
"Working alongside such dedicated and passionate individuals who share my love for Israel and the Jewish people has been an honor. My time here reminded me of the tremendous potential of Israel and the Jewish people worldwide. We are a unique community bound together by our shared history, commitment to Tikkun Olam, justice and compassion, and deep belief in the power of hope and determination."
He concluded, "I want to express my sincere appreciation for your support and dedication. Your warm friendship and genuine commitment to Israel have been a constant source of inspiration for me. While my time in New York comes to an end, I will always hold this community close to my heart and forever be your ambassador to Israel. I promise to continue representing this community and to make sure your voice is heard on the other side."
Zamir had previously warned US Jewish donors against the Israeli government's planned judicial reform. Speaking at the Jewish Museum's annual fundraising gala, he said, "I'm deeply concerned about the direction the country is going in right now. If you want to have the national home and to be everyone's home, it really must be democratic."
"I've been in New York explaining Israel and representing Israel for the last 18 months. Sometimes it's things that I agree with, and sometimes it's things that I don't agree with. That's part of being a diplomat. It's part of being an Israeli — sometimes it's easier, sometimes it's harder. It's always very clear. That's not the point of the last few weeks," added Zamir.
Following those comments, Zamir was summoned by the Foreign Ministry in Jerusalem. Zamir was appointed to the position by the previous Foreign Minister, Yair Lapid.