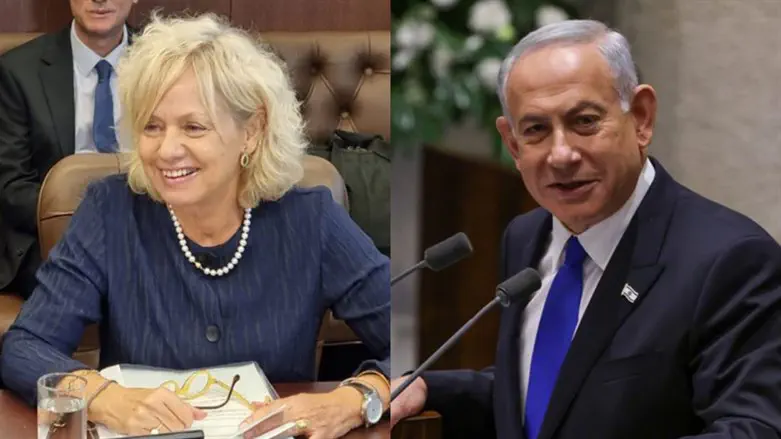 Baharav-Miara, Netanyahu
צילום: נועם מושקוביץ - דוברות הכנסת וחזקי ברוך
Israel's Attorney General lambasted Prime Minister Benjamin Netanyahu Friday morning over his address Thursday, in which he vowed to play a greater role in the judicial overhaul plan.
Attorney General Gali Baharav-Miara penned a sharply-worded letter to the premier Friday, taking aim at his Thursday night televised speech made on the eve of his trip to London.
Netanyahu spoke out hours after the Knesset passed the Incapacitation Law, limiting the ability of the Attorney General to declare a prime minister unfit for office only to situations in which the premier suffers from physical or mental incapacitation.
"Until today my hands were tied. But no more. Today I enter the conversation, for the sake of the people and the country, I will do everything in my power to reach a solution and calm the spirits in the nation. We are all brothers,'' he said.
During his address, Netanyahu said that his government will move forward with the judicial reform plan, rejecting calls from some within the Likud to freeze the legislation, while continuing to call on the Opposition to begin talks for a compromise.
But Baharav-Miara disputed Netanyahu's claim that the passage of the Incapacitation Law enables him to get directly involved in the judicial reform plan.
The Attorney General had previously ruled that according to a Supreme Court ruling, given Netanyahu's current legal woes, it would constitute a conflict of interest for him to intervene directly in any reform of the judiciary.
Baharav-Miara called Netanyahu's declaration Thursday night "illegal," and warned him against any involvement in the judicial overhaul.
"In your address that you made last night you discussed the initiatives relating to the judiciary, in particular the makeup of the judicial appointments committee, and you announced that you will be getting directly involved in these initiatives," wrote Baharav-Miara.
"In so doing, you violated a Supreme Court ruling, according to which you, as a prime minister under criminal indictment, must not take actions which could raise reasonable fears of a conflict of interest between your personal interests related to your criminal proceedings and the interests related to your position as prime minister. Therefore, you are required to adhere to the opinion given to you by the Attorney General to avoid any conflict of interest."
"In my letter to you on February 1st, 2023, I instructed…that you must refrain from any involvement, direct or indirect, in these reforms in your capacity as prime minister."
"What I wrote you then in my letter is still binding for you, and the passage of the Incapacitation Law does not exempt you from this obligation."