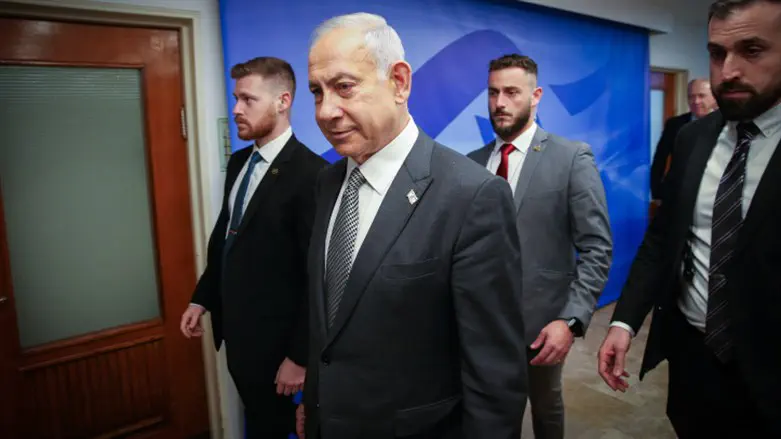 Benjamin Netanyahu, February 12th, 2023
AMIT SHABI/POOL
Israeli Prime Minister Benjamin Netanyahu left Ben Gurion International Airport for London Friday, for a state visit to the United Kingdom.
The prime minister's departure, originally slated for Thursday evening, was delated for hours due to protests in Israel, a last-minute decision by Netanyahu to make a public address regarding his government's judicial reform plan, and finally by restrictions on operating hours at London's Heathrow Airport.
Netanyahu finally left Israel at 4:30 a.m. Friday, and is expected to arrive in the UK at 6:30 local time.
Upon his arrival, Netanyahu will travel directly to 10 Downing Street to meet with his British counterpart, Rishi Sunak.
Netanyahu's meeting with Sunak is likely to focus primarily on Iran and its nuclear program, though Israel's contentious judicial reform program could also be a subject of discussion.
Anti-judicial reform protests are expected in London during Netanyahu's three-day visit to the British capital.
In addition to Sunak, the Israeli premier is scheduled to meet with British Home Secretary Suella Braverman.
On Thursday night, Netanyahu made a televised address on the judicial reform plan, after meeting with Defense Minister Yoav Gallant (Likud) to discussed concerns regarding potential repercussions to the IDF's operational capability should opposition intensify following the plan' its swift passage.