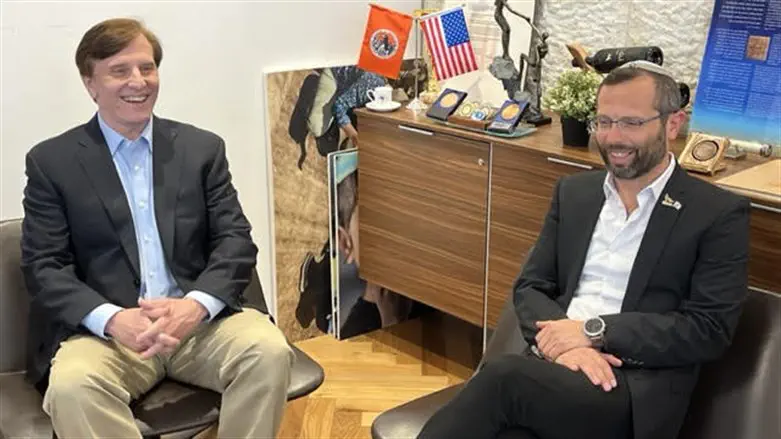 Dr. Fleming with Gov. Ganz
courtesy
Dr. John Fleming, former Senior Advisor to President Donald Trump, who worked on the Abraham Peace Accords, and previously served as a four term Louisiana Congressman (4th district), spent the day in Binyamin, Israel today (Thursday), just north of Jerusalem.
Fleming arrived in Israel along with his wife Cindy, to learn about the opportunities for technology and investments between the two countries, in order to develop further commercial ties in the fields of cybersecurity, aeronautic technologies, and more.
Fleming is currently running to serve as the next Louisiana State Treasurer. His position within the Republican party is one of influence and he is highly regarded as a top decision maker within the party.
During his day in Binyamin, Fleming met with local business executives to explore the potential for collaboration. He also met with Binyamin Regional Council Governor Israel Ganz to discuss the furthering of ties between Louisiana and Binyamin.
In addition, Fleming met with entrepreneurs at the "Binyamin Tech," innovation center and business hub, visited the Psagot Playgrounds Equipment company, toured the Psagot Winery, was given a security demonstration by the region's security chief, toured the ancient Shiloh Heritage Center, and more.
Fleming arrived in the region as a guest of the Binyamin Regional Council and the "Yes! Israel Project," supported by the Prime Minister's Office.
The Yes! Israel Project, who hosted Fleming during his entire stay in Israel, organizes missions for political leaders, the business community and public figures, to visit the Land of Israel and its people, and to make connections for serious advocacy work back home.
During his visit to Binyamin, Fleming said: "The goal of my trip is multifaceted. I have a love for Israel, and the advancements Israel has made. I am very impressed with the leadership Israel is demonstrating, particularly in high-tech, and other advanced technologies."
Fleming explained: "But also, as I'm running for Treasurer in Louisiana, a state that is suffering from economic decline, I would really love to see an alliance and collaboration between Israel and Louisiana. I see that as a win-win for both sides."
In regard to his visit to the Binyamin Region of Judea/Samaria, Fleming said that he believed his visit sent an important message of peace. "I just visited a factory [Psagot Playgrounds] and you see Arabs and Israeli Jews working side by side… and one of the Arab supervisors said to me, 'This is all about peace' and he was so proud to have a job and be able to provide for his family. So, I think this is a molecular way to approach peace – people connecting on a human-to-human basis, and I see many of these types of opportunities here in this part of Israel."
Binyamin Regional Council Governor Israel Ganz commented: "It was a pleasure welcoming my good friend Dr. John Fleming to the Binyamin Region. Today was about forming friendships and economic strategic partnerships between Louisiana and the entrepreneurs who live in this beautiful part of Israel."
Ganz added: "I am confident that we succeeded in laying the foundation for many wonderful ventures, which I know will take off in the near future."
Ganz said: "Not only did Dr. Fleming meet some of our brightest business minds, but he was given a taste of what Binyamin has to offer to Israel and the rest of the world. From award winning wines, to amazing food produced by some of Israel's most patriotic and talented citizens, Dr. Fleming got a real feel for life in this area. We hope he visits us again soon."

Ruth Jaffe Lieberman, co-founder, The Yes! Israel Project, with Sarah Paley said: "It is an honor to host Dr. John and Cindy Fleming in Israel. This isn't their first time here, but we know they are taking time out of their busy influential schedule in Washington D.C. in order to support the Jewish People."
Liberman added: "As Louisiana's Treasurer, Fleming will be looking to deepen the economic ties and investments between the State of Louisiana and Israel. He is using this trip as an opportunity to meet with private entrepreneurs and government leadership, including the prime minister, to those on the ground developing the technologies, in order to identify the investments which will benefit both Americans and Israelis alike."
She said: "The Yes! Israel Project runs similar missions every few months, in order to bring good friends like Dr. Fleming here, and so many other influential individuals, who we have developed close relationships with over the years, to strengthen the bonds between our great nations, and create opportunities for life-long partnerships."