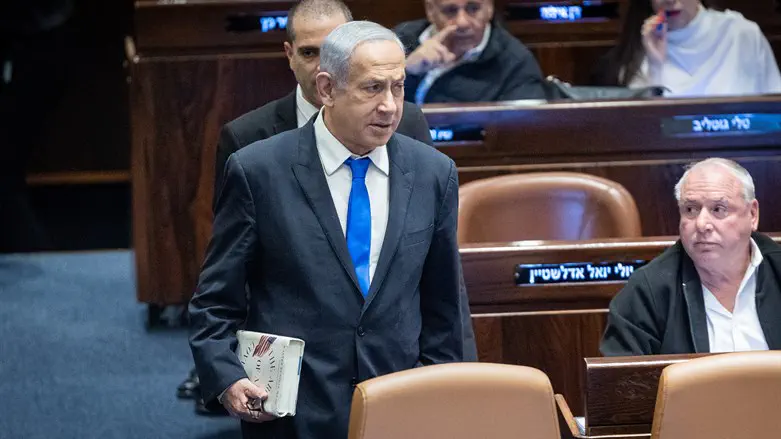 Netanyahu
Yonatan Sindel/Flash90
Israeli Prime Minister Benjamin Netanyahu said his government is not planning on rebuilding towns demolished during the 2005 Disengagement, despite the Knesset's passage late Monday night of legislation nullifying parts of the Disengagement Law.
In a statement released by the Prime Minister's Office Wednesday morning, Netanyahu expressed support for the law, passed by the Knesset 31 to 18, which nullifies the law barring Israelis from the parts of northern Samaria which were evacuated in 2005.
At the time, along with all 21 of the Israeli towns in the Gaza Strip, the Ariel Sharon government also evacuated four towns in northern Samaria – Ganim, Kadim, Sa-Nur, and Homesh.
The Disengagement Law barred Israelis from returning to the sites of the demolished towns.
"The decision by the Knesset to nullify parts of the Disengagement has brought an end to the law which discriminates against Jews living in parts of northern Samaria, a part of our historic homeland," Netanyahu said Wednesday.
"It is not a coincidence that senior members of the Opposition supported this bill the whole time."
Netanyahu emphasized, however, that the law's passage does not signal that Israel is poised to rebuild the four demolished towns right now, as some on the Right have called for.
"With that, the government has no plans to move forward with new towns in these areas."
The law's passage Monday night drew sharp criticism from the Biden administration, with the U.S. State Department summoning Israel's Ambassador to the United States, Michael Herzog, for a meeting with Deputy Secretary of State Wendy Sherman on Tuesday.
"The Deputy Secretary conveyed US concern regarding legislation passed by the Israeli Knesset rescinding important aspects of the 2005 Disengagement Law, including the prohibition on establishing settlements in the northern West Bank," Deputy State Department spokesman Vedant Patel said.
"They also discussed the importance of all parties refraining from actions or rhetoric that could further inflame tensions leading into the Ramadan, Passover, and Easter holidays," he added, in what could be viewed as a reference to the remarks by Finance Minister Bezalel Smotrich, who said at an event in Paris on Sunday that "there is no such thing as a Palestinian people."