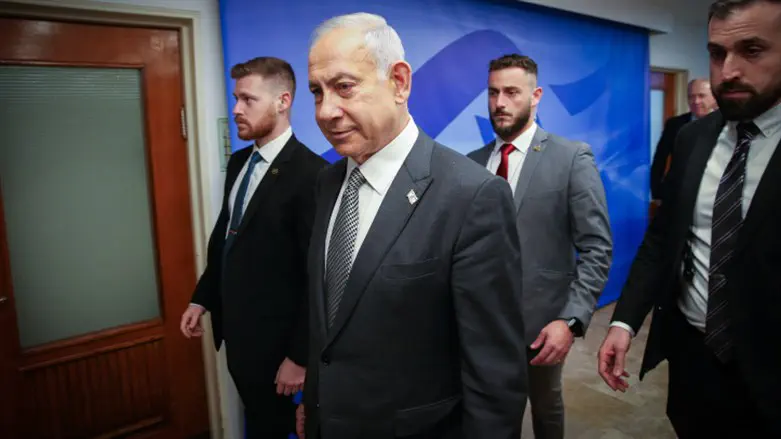 Benjamin Netanyahu, February 12th, 2023
AMIT SHABI/POOL
Hundreds of anti-judicial reform protesters rallied outside of an Israel Land Authority conference in Tel Aviv Wednesday morning, demonstrating against Prime Minister Benjamin Netanyahu's planned appearance at the event.
Protesters blocked traffic outside of the conference, held at the Eretz Israel Museum, in anticipation of Netanyahu's arrival.
After the protesters gathered outside of the event, however, Netanyahu withdrew from the conference, marking the third time he has cancelled his planned participation in a public event as a result of anti-judicial reform protests.
Justice Minister Yariv Levin (Likud) was also slated to speak at Wednesday's event, but later cancelled.
A spokesperson from Levin's office said the minister's attendance was cancelled out of consideration for his busy schedule, denying Levin nixed his appearance because of the protest.
After hearing news that Netanyahu had cancelled his appearance, protesters cheered: "He has run away from every place that has invited him."
"He isn't coming because he is a coward."
In a separate demonstration Wednesday morning, a convoy of vehicles driven by anti-judicial reform protesters set out for the Knesset in Jerusalem, as part of a planned rally outside of the Knesset to coincide with the expected vote by the Knesset's Constitution, Law and Justice Committee to vote to send the judicial nominations committee bill to the Knesset plenum for its second and third votes.
Police have closed off roads around the Knesset in anticipation of the protests.