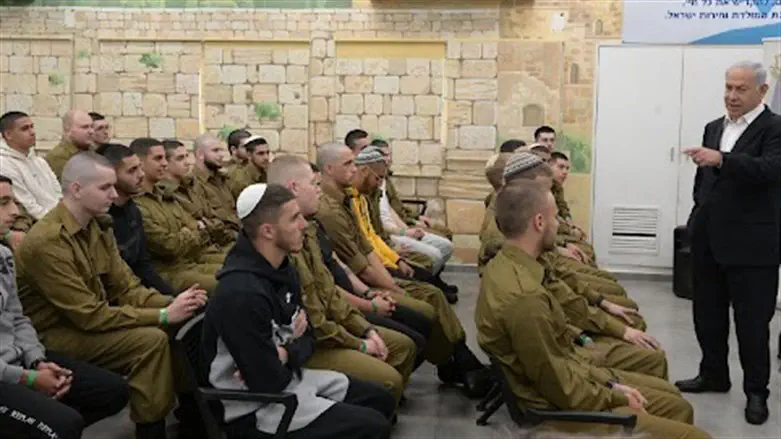 Netanyahu addresses IDF recruits
Amos Ben Gersjom/GPO
Prime Minister Benjamin Netanyahu and Defense Minister Yoav Gallant, today (Tuesday), visited the IDF recruitment center at Tel Hashomer during the induction of recruits for the Golani Brigade and for combat soldiers to be posted at borders and crossings.
Prime Minister Netanyahu accompanied the recruits during their induction and – together with Defense Minister Gallant – issued them military equipment and IDF uniforms.
The Prime Minister held an open conversation with dozens of recruits and answered their questions, along with the Defense Minister and the Head of the IDF Manpower Directorate Maj.-Gen. Yaniv Asor.
Prime Minister Netanyahu to the recruits: "Today, you are, in effect, becoming soldiers. We have no country without an army. We have no country without soldiers who are recruited for service. You are being recruited to defend our heritage; exactly that, these are not merely high-sounding words.
"In the history of the Jewish people, the worst thing that happened to us was that we lost the ability to defend ourselves. Therefore, generations of Jews, over thousands of years, were like driven leaves in the wind; they slaughtered us. The Jewish people in exile were a people who were slaughtered. We could not do anything.
"When we returned and established the State of Israel, we established the ability to defend ourselves. The ability to defend ourselves is you, each one of you; this is the great change.
"Those who seek to destroy us have not disappeared. They take on a form and come back, Iran and its proxies. What has changed is our ability to confront them. Of course, I want you to safeguard the country but more than anything, watch out for each other."
Defense Minister Gallant said: "You need to be proud of yourselves and go to basic training with your heads held high. You must remember a central thing: Today you are becoming part of the defensive force of the people of Israel and the State of Israel. With every passing day you will take an additional step toward the goal, and together with those who will become your platoon, company and lifelong friends, you will overcome the difficulties and meet the challenges."
"The convincing answer to all the controversies is here, in the recruitment for the Golani Brigade, as we see men from all parts of the country reporting for combat duty. Here we witness the true resilience of the State of Israel, this chain of generations and the baton that we pass one to the other."
Also participating in the visit were National Security Director Tzachi Hanegbi, Prime Minister's Chief of Staff Tzachi Braverman, Prime Minister's Military Secretary Maj.-Gen. Avi Gil, Head of the IDF Planning Directorate Maj.-Gen. Yaakov Banjo, and the commander of the recruitment center, Col. Alon Matzliach.