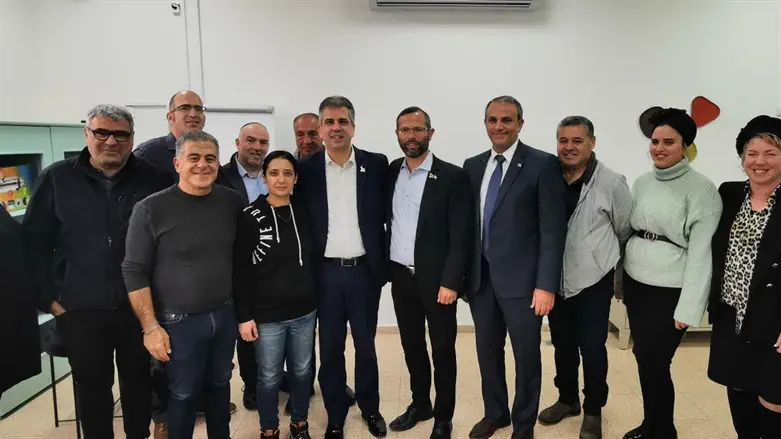 Minister Eli Cohen (center) during visit to Binyamin
Binyamin spokesperson
Foreign Minister Eli Cohen held his first visit in the Binyamin region as the guest of Binyamin Regional Council Governor Israel Ganz.
Cohen came with Foreign Ministry staff, met with Binyamin Regional Council representatives and the local municipal leadership at the community center in Adam, north of Jerusalem. Cohen also met with high-tech workers at the Binyamin Tech complex at Shaar Binyamin, and held a work meeting with Ganz and the heads of the council's various professional branches. The branch directors presented an overview of the council's activities, including the work plans of International Desk Director Eliana Passentin.
Cohen praised Ganz for his positive work at the Knesset, and revealed that Ganz is due the credit for obtaining NIS 7.4 billion for transportation infrastructure construction in Judea and Samaria. "The previous government cancelled all the infrastructure and transportation projects in Judea and Samaria," said Cohen, "and now this budget has been allocated and approved."
During the visit, Cohen launched the Young Ambassadors program, in which 25 teenagers from Binyamin will be mentored by foreign ministry officials and will be shown how to advocate for Israel, include in meetings with representatives of foreign countries and a visit to the UN building in New York.
Cohen explained that the Ministry of Foreign Affairs is introducing this project throughout Israel and "Young people in Binyamin also deserve to participate in this important project, and will be the first group from Judea and Samaria to learn about advocating for Israel."
At the end of his visit, Cohen said, "I will be right alongside Binyamin Regional Council and its governor on any issue. The Foreign Ministry will allocate a budget for the council's advocacy efforts. I am familiar with the wide-ranging activities of Governor Ganz abroad and I will recommend that our representatives around the world assist him with whatever he needs to strengthen the Judea and Samaria communities."
Ganz thanked Cohen for the visit to Binyamin and told those present, "Foreign Minister Cohen is among the senior ministers who have worked for the betterment of the Judea and Samaria in all his ministerial positions in the Israeli government, and is a true friend of Binyamin. On behalf of the residents of Binyamin, I thank you very much for all your efforts.
Ganz noted that the Young Ambassadors project will connect Binyamin youth to the Foreign Ministry officials and improve the position of this region in the international arena and among Diaspora Jewry.