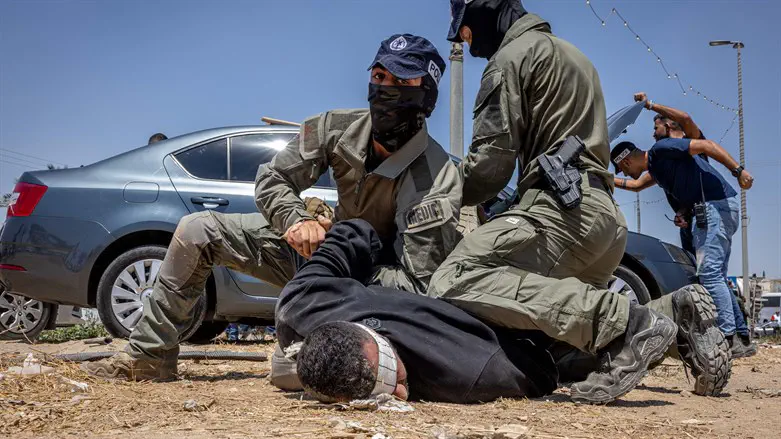 Terrorist arrest
Nati Shohat/FLASH90
Israeli security personnel uncovered a Palestinian Arab terrorist cell planning a number of shooting attacks in Jerusalem, the Shin Bet (Israel Security Agency) revealed Tuesday morning.
According to the Shin Bet, a terror cell operating in Judea and Samaria under the direction of terrorists in the Gaza Strip was working to recruit terrorists for a string of attacks in the Israeli capital.
The cell was uncovered during joint operations by the IDF, Israel Police, and Shin Bet over the past few weeks.
The effort to recruit gunmen for the terror plot was led by 40-year-old Tzabri Mahmoud Eram and 31-year-old Ayman Youssef Khalil Zakkut, both residents of Rafiah in the southern Gaza Strip.
The two terrorists are members of the Popular Resistance Committees, a pro-Iranian splinter group of the Fatah organization which is believed to be funded by both Hamas and Hezbollah.
In preparation for the planned attacks, Zakkut and Eram recruited and trained terrorists in Judea and Samaria, and worked to smuggle weapons on their behalf.
Israeli authorities broke up the cell shortly before the first of the planned attacks, arresting two terrorists from Judea and Samaria linked to the group.
The terrorists had been involved in smuggling weapons, including the smuggling of a pistol which was designated for use in a terror attack in Jerusalem in just a few days.
In addition, two terrorist brothers from Judea and Samaria were arrested last month, on suspicion they were recruited to carry out a bombing attack inside pre-1967 Israel.
During their interrogation, the two revealed that they had also helped to smuggle firearms for the cell for use in the planned shooting attacks.