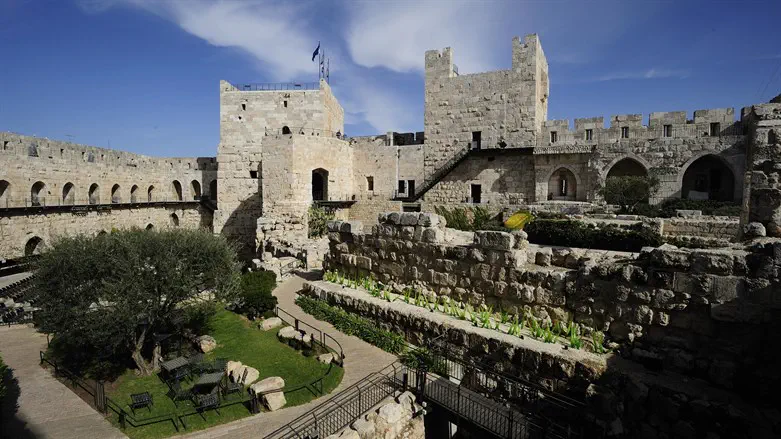 Tower of David
Naftali Hilger
On Thursday, TIME revealed the third annual list of the World's Greatest Places, which highlights 50 extraordinary travel destinations around the world. The Tower of David Jerusalem Museum, and its 360 degree view of the city, was featured as one of the exciting new openings and experiences in Jerusalem which earned a spot on this year's list.
The inclusion of the Tower of David Museum in this prestigious list of the World's Greatest Places comes ahead of the museum's reopening to the public on June 1, 2023 after a three-year, $50 million renewal and conservation project that has transformed the visiting experience.
The renewal project has included the preservation and conservation of the historic citadel and archaeological park.
The project has been extensive and complex with multiple challenges including turning a historic site into a modern and accessible museum while retaining its original character.
Two elevators have been added together with accessible ramps and a chair lift.
New infrastructure and advanced technologies from climate control to optic fiber cables have been carefully incorporated into the ancient guardrooms allowing the museum to renew the permanent exhibition in 10 renewed exhibition galleries that create a fascinating blend of state-of- the-art technology and ancient artifacts to tell Jerusalem's rich and colorful story.
A new multi-level sunken entrance pavilion will welcome visitors at the Jaffa Gate entrance to the Old City with a coffee shop, shaded seating, public amenities as well as entirely new sunken exhibition space. The Museum continues to show its spectacular night shows multiple times a week.
TIME solicited nominations for the list of places—including countries, regions, cities and towns—from its international network of correspondents and contributors, with an eye toward those offering new and exciting experiences. "The locations must be enthralling, exciting, and often new or advanced to meet the criteria for TIME."
TIME's list is a wide and varied list. Jerusalem is listed among the other 50 destinations such as Kyoto in Japan, Musanze in Rwanda, Giza and Saqqara in Egypt, Ladakh in India and Aqaba in Jordan