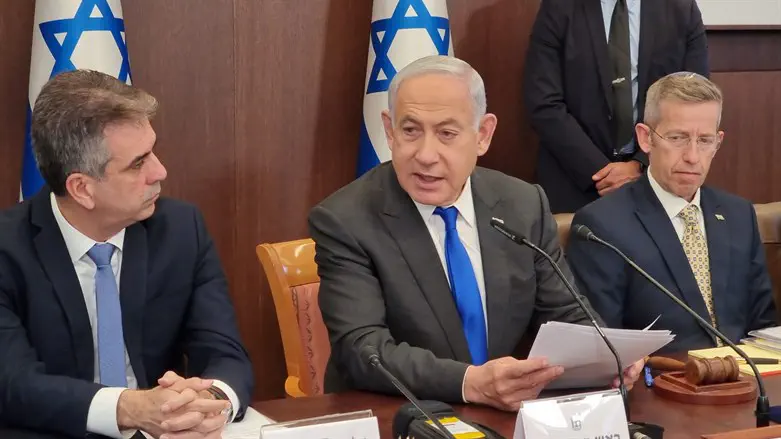 Prime Minister Netanyahu
Israel National News
The Israeli government and the Palestinian Authority are expected to hold a summit in the coming days with the goal of reaching understandings that will lower the tensions in the region ahead of the month of Ramadan, Kan 11 News' Gili Cohen reported on Tuesday.
The meeting, which is the result of an American initiative, is expected to take place in the Egyptian city of Sharm El-Sheikh and is, in essence, a direct continuation of the talks that the parties held more than two weeks ago in the Jordanian city of Aqaba.
Its main purpose is to cast content within the understandings reached at the previous summit and allow one last chance to apply policy on the ground.
Expected to take part on the Israeli side are National Security Advisor Tzachi Hanegbi, the head of the Israel Security Agency (Shin Bet) Ronen Bar, the Coordinator of Government Activities in the Territories Major General Ghasan Alyan and the Director General of the Foreign Ministry, Ronen Levy.
At the previous summit in Aqaba, the Palestinian Arabs presented a list of demands, including: Stopping Israeli entry into Area A, stopping mass entry of Jews to the Temple Mount, freezing the worsening of the conditions of terrorist prisoners, returning the bodies of all terrorists held by Israel and Israeli guarantees that there will be no provocations by worshipers at the Temple Mount during the month of Ramadan.
The Americans, Egyptians and Jordanians made it clear to them that the list of demands should be put aside and that the focus should be on the dialogue.
The representatives from Israel presented a document that includes 12 unilateral measures carried out by the Palestinian Arabs, including turning to the International Criminal Court and incitement, and demanded that they stop. Israel agreed to freeze the construction in Judea and Samaria for a period of four months.
Israeli officials summed up the previous summit and said, "We achieved what we wanted - the Americans (as well as the Jordanians and Egyptians) saw that we are not the disturbing factor in the region."