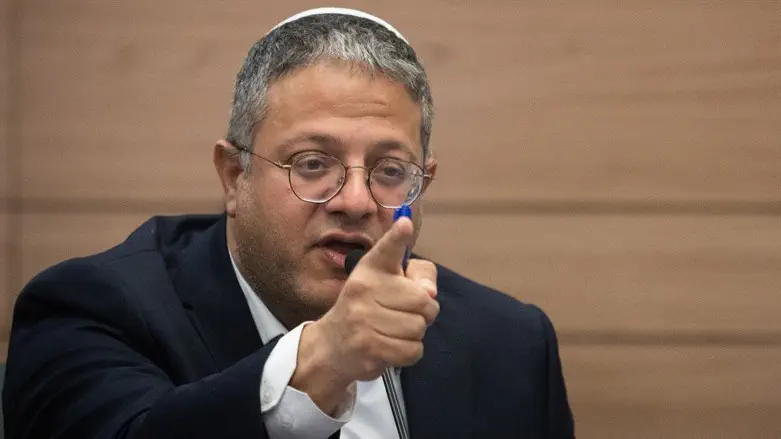 Itamar Ben Gvir
Oren Ben Hakoon/Flash 90
A poll conducted by Prof. Camil Fuchs for Channel 13 News and published on Sunday evening found that 47% of Israelis oppose the idea of Yesh Atid, led by Yair Lapid, and the National Unity Party, led by Benny Gantz, joining the government, with the aim of stopping the legislation related to the judicial reform. 41% said they support such a step.
Among Yesh Atid voters, there is support of about 58% for Lapid's joining the government, while among the voters of the National Unity Party, 66% support a similar move on Gantz's part.
The poll found shows that 55% of the public believe that the removal of Tel Aviv District Commander Ami Eshed from his position was politically motivated, while only 24% claim that the removal was professional.
In the wake of the saga of Eshed's removal and quick reinstatement, 42% of the public think that Israel Police Commissioner Kobi Shabtai should remain in his position, while at the same time, 29%, almost a third of the public, believe that he should resign. In addition, 50% of the public believe that Prime Minister Benjamin Netanyahu should fire National Security Minister Itamar Ben Gvir, while 40% think he should remain in his position. Among Likud voters, only 19% think the minister should be fired.
Following the speech he gave on Thursday, and before he presents his outline for a compromise on the judicial reform, about 50% of the public believe that President Isaac Herzog can mediate and achieve a compromise between the coalition and the opposition. However, 33% think that he is unable to do so.
In addition, the poll found that the public appears to be divided on the question of whether Attorney General Gali Baharav-Miara is performing her duties properly. 41% of the respondents claim that the Attorney General is carrying out her duties well, but 37% think that she has been interfering too much in the government's activities.