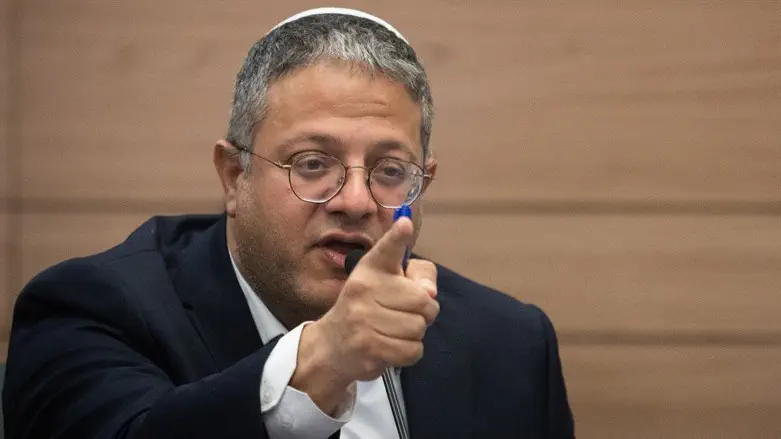 Itamar Ben-Gvir
Oron Ben Hakun/Flash 90
A group of senior police officials told Israel Hayom that the statement last night (Saturday) by Police Commissioner Yaakov Shabtai constitutes an explicit admission that National Security Minister Itamar Ben-Gvir is harming the police's public image.
"Ben-Gvir came with good intentions, but with bad advice. Statesmanship has disappeared from the National Security Ministry. He has no desire to learn the role, everything is conducted in a sloppy and unprofessional manner. He hasn't realized yet that he is a minister. He is too impulsive and thinks he can teach [those with more experience]. It won't work. These are professionals," the officials said.
On Saturday night, Police Commissioner Yaakov Shabtai said that he had made a mistake in removing Tel Aviv District Commander Ami Eshed from his post amid the demonstrations against the government's judicial reform legislation and transferring him to head the Police Academy. Minister Ben-Gvir was furious that Eshed had allowed anti-judicial reform protestors to block the Ayalon Highway, one of Israel's main arteries.
"The police department has one commissioner," clarified Shabtai. "The orders in the field were clear the entire time. Even if there were doubts about certain incidents, we probed them, and the lessons will be applied in the field. The orders to the commanders and officers are clear 'We don't want to see blood in the streets, not a demonstrator bleeding from a stun grenade, nor a 70-year-old woman in handcuffs. I have an obligation to the police and to the Israeli public.'"
Attorney General Gali Baharav-Miara on Friday ordered the removal to be frozen due to a "suspicion regarding the move's legality."
"I respect and accept the Attorney General's decision regarding the appointment." The Commissioner emphasized: "I am committed to upholding the legal right to protest and demonstrate as long as it's done within the bounds of the law, and I will not give up due to political pressure. I never deserted a battle or a war, and I will not do so now. I am committed to doing what's best for Israel."
Ben-Gvir attacked the Attorney General's decision, saying: "This is a leftist, biased, non-objective attorney general who acts on behalf of the previous government, with a political agenda."