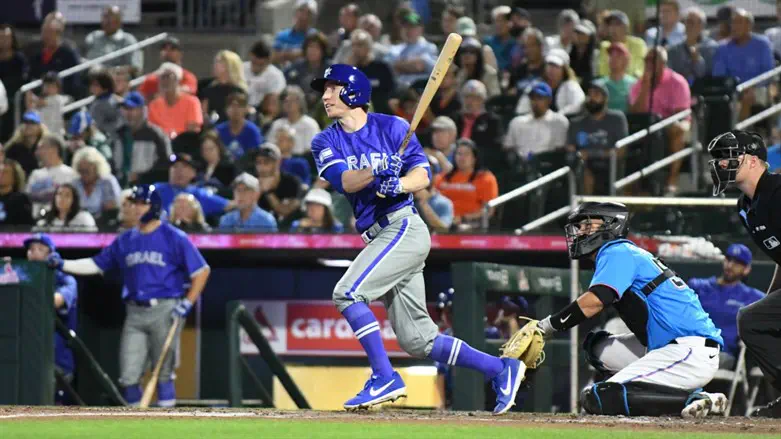 Ty Kelly bats during Israel's exhibition game against the Miami Marlins
Emma Sharon/MLB
In the squad's first-ever exhibition game against an MLB team, Team Israel lost 11-5 against the Miami Marlins on Wednesday night in a tuneup before the World Baseball Classic.
Israel had taken a 5-2 lead into the bottom of the fifth inning, but the Marlins scored three runs in both the fifth and sixth innings to tie and subsequently take control of the game. Miami added on three more runs in the bottom of the eighth.
It was Israel manager Ian Kinsler's first baseball game as a coach. He previously played for the team after a 14-year MLB career, which included four All-Star seasons.
"It was great," Kinsler told the Jewish Telegraphic Agency after the game. "I thought we played really well. Kind of started a little shaky but through the first five we played a really good game offensively, swung the bats well and then the game kind of got away from us. But overall, I was pretty happy with it."
Veteran minor leaguer Ty Kelly rebounded from a two-error first inning to crack two hits, including a two-run double, and scored a run. Garrett Stubbs, a backup catcher for the Philadelphia Phillies who played his first-ever game at third base, and Alex Dickerson, a veteran big-league outfielder, each drove in a run as well.
Longtime Team Israel player Ryan Lavarnway, who has played as a catcher in the minor league organizations of several MLB teams, also recorded a hit. He said finding a rhythm as a team — and not getting hurt — are his top priorities.
"Playing for this team is super meaningful to me," he said after the game. "It's been really life changing. And I hope that this next generation of players that are new to this team takes the baton, and it means as much to them as it's meant to us."
Ten pitchers took the mound for Israel, each for one inning or less. Shlomo Lipetz, the 44-year-old native Israeli, gave up three runs in the bottom of the sixth after entering the game with the bases loaded.
For many of the team's players, it was their first taste of a Major League Baseball game.
"I can remember my first time," Kinsler said. "It's always extremely fun and a little bit eye-opening, but they need to get used to it quick because when we get to Miami it's going to be packed and it's going to be loud."
Israel will take on the Washington Nationals in another exhibition game tonight in West Palm Beach. Longtime Nationals owner Ted Lerner, who died last month, will be honored prior to the game.
Israel's first official WBC game is Sunday at 12 p.m. ET against Nicaragua.