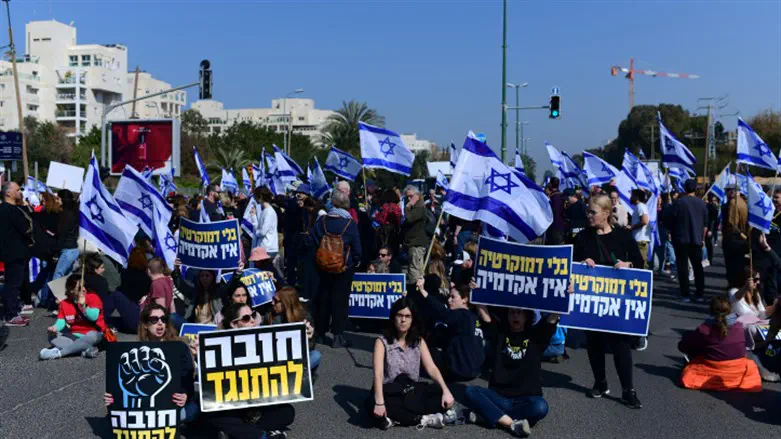 Anti-judicial reform protesters shut down Tel Aviv
Tomer Neuberg/FLASH90
A large majority of Israelis support Justice Minister Yariv Levin's judicial reforms, the Direct Polls institute reported yesterday (Monday), presenting a different picture from the polls suggesting the controversy surrounding the reforms are causing the coalition to lose support.
According to the institute, the polls cited by the mainstream media in Israel do not include specific questions on the content of the judicial reform, and respondents are much more supportive of the reforms when asked about specific aspects.
About 60% of Israelis support the vast majority of the judicial reforms when asked questions about the content of the reforms, Direct Polls stated.
The surveys found that 40% of Israelis support the judicial reforms in their current form, as proposed by Justice Minister Yariv Levin and Knesset Constitution Committee chairman Simcha Rothman. The majority of these supporters are on the right-wing of the political spectrum.
An additional four percent support the reforms with the sole change of removing the Override Clause, which would allow the Knesset to re-pass laws struck down by the Supreme Court.
34% are in favor of reforming the judicial system, but only with substantial changes to the current proposals.
In total, Direct Polls found that 78% of Israelis are in favor of reforming Israel's judicial system to at least some extent, while just 22% want to keep the judicial system as it currently is.
The institute also found that contrary to other polls which show the current coalition weakening and Opposition leader Yair Lapid's Yesh Atid party strengthening against the ruling Likud party, Yesh Atid is actually bleeding support to MK Benny Gantz's National Unity party, though the Likud would also lose one seat to Gantz's party.
Gantz is also tied with Lapid on the question of who is best suited to be prime minister for the first time in a year and a half.
On Sunday, a poll by the Midgam Institute found the coalition and opposition switching places, with the coalition falling from 64 seats to 56, and the opposition parties winning 64 seats. The Likud would lose four seats, dropping from its current 32 seats to 28.