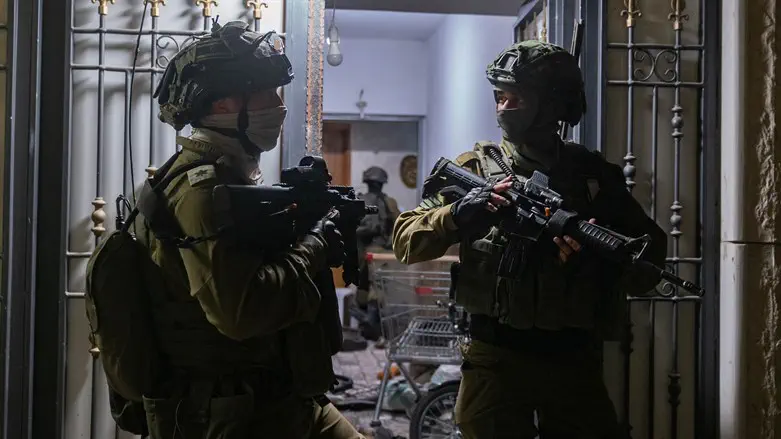 IDF soldiers during the operation
IDF spokesperson
Overnight, IDF, ISA and Israel Border Police forces conducted counterterrorism activities in a number of locations in Judea and Samaria, including in the towns of Al-Eizariya, Beit Ummar, Kifl Haris, Hares, Ein Albidiyan, Harabot and the city of Hebron.
The forces operated in the town of Aqabat Jabr to survey the residence of the terrorist who carried out several shooting attacks on February 27th, including the one in which Elan Ganeles was murdered. The surveying was conducted in order to examine the potential demolition of the house.
During the activity, suspects fired at the forces, hurled rocks and Molotov cocktails. The soldiers responded with riot dispersal means and live fire, hits were identified.
Furthermore, the forces apprehended three wanted suspects in the city of Nablus and confiscated three M-16 rifled, a handgun and ammunition. The soldiers apprehended an additional wanted suspect in the town of Izmut.
During the activity in the town of Surda, Al-Bireh and Anata, the forces apprehended three wanted suspects.
The forces also operated in the towns of Bayt Ula, Bayt Kahil and Beit Einun and apprehended three wanted suspects and confiscated stolen vehicles.
The soldiers apprehended two wanted suspects in the towns of Bayt Sahur and al-Khader. Two additional wanted suspects were apprehended in the town of Kafr Ni'ma and Anabta.
The suspects and weapons were transferred to security forces for further processing.
No IDF injuries were reported.