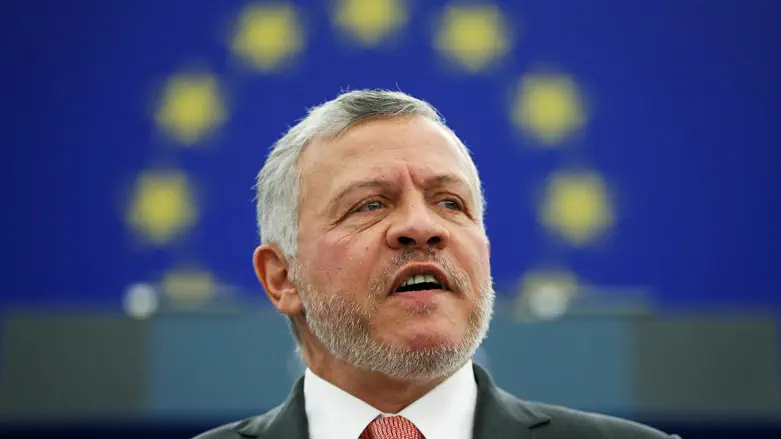 King Abdullah II
Reuters
Jordan's King Abdullah told US Defense Secretary Lloyd Austin on Sunday that the recent surge in violence in Judea and Samaria threatened regional stability, Jordanian officials said, according to the Reuters news agency.
Austin arrived in Jordan earlier at the start of a Middle East tour that will also take him to Israel and Egypt.
He wrote on Twitter before his departure that he would meet key leaders and "reaffirm the US commitment to regional stability and advancing the shared interests of our allies and partners."
King Abdullah, whose country hosted the first Israeli-Palestinian Arab meeting in Aqaba last week with the participation of top US and Egyptian officials, said efforts must be accelerated to bring about a comprehensive Arab-Israeli peace deal based on a two-state solution.
"There is a need for calm and to reduce escalation in Palestinian territories and stop any unilateral steps that undermined stability and abort chances of attaining peace," a palace statement said after the talks between the king and Austin, according to Reuters.
King Abdullah's meeting with Austin comes a month after he visited Washington, where he met with US President Joe Biden at the White House.
During the meeting, Biden underlined his support for the legal "status quo" of Jerusalem's Al-Aqsa Mosque compound and also reiterated the US position of "strong support for a two-state solution."
Israel has been pushed to accept a two-state solution for peace with Palestinian Arabs, which would see a Palestinian state being established alongside Israel. The PA has refused to negotiate with Israel, and has repeatedly pushed for an international conference for peace in the Middle East, aimed at bypassing the US efforts to resume talks.
Israeli-PA peace talks have been on hold since 2014, when the PA unilaterally applied to join international organizations in breach of the conditions of the talks.
Austin, meanwhile, is scheduled to arrive in Israel this week, where US officials said he will raise concerns about the violence in Judea and Samaria that has alarmed Jordan and Arab leaders and discuss diplomatic efforts to reduce tensions ahead of Muslim and Jewish religious holidays.
The US Defense Department said ahead of the visit that discussions would focus on the growing threat Iran poses to regional stability, and on advancing multilateral security cooperation with integrated air and missile defenses.
Central to discussion will be the "full constellation of Iran-associated threats..," a senior defense official was quoted as saying on the Pentagon's official site ahead of the visit.
"Those threats include Iran's arming, training and funding of violent proxy groups, aggression at sea, cyber threats, its ballistic missile program and drone attacks," he added.
Austin's visit to Israel will follow a visit last week by US Chairman of the Joint Chiefs of Staff, General Mark Milley, , who landed in Israel on Friday and met with IDF Chief of Staff Herzi Halevi and with Defense Minister Yoav Gallant.