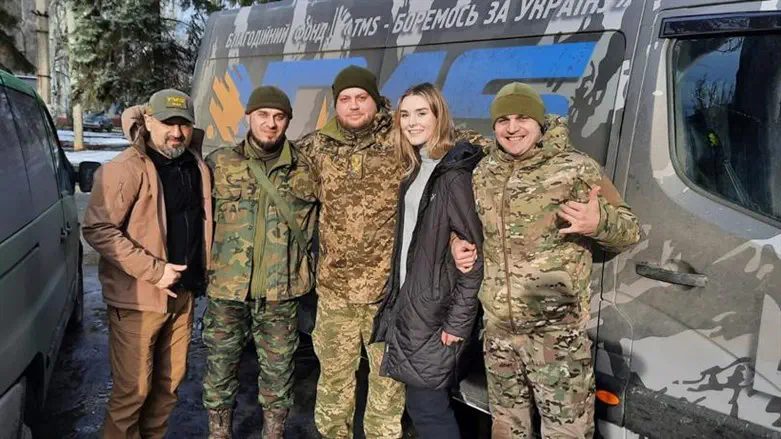 Israelis bring innovative PTSD therapy to Ukrainian front lines
TMS League
If there's one thing that Israelis know well, it's dealing with trauma, or post-traumatic stress disorder (PTSD), to be precise. Today, a full year after the outbreak of the Russian-Ukrainian war, there are people out there looking ahead to the long-awaited day after, and what Ukrainian citizens, young and old—all of whom are war victims in some regard or other—will be facing.
Two of these men, Shay Gutman and David Roytman, have founded PTSD treatment centers for soldiers returning from the battlefield, as well as a special seminar in conjunction with Israel's Menachem Begin Heritage Center, which brought Ukrainian psychologists and social workers to Israel with the goal of teaching them to cope with the new situation on their home front.
"This is a groundbreaking project in Ukraine and Israel that is already offering relief to hundreds of soldiers suffering post-trauma who are struggling to rehabilitate and assimilate back into civilian life," explains Shay Gutman, the man behind TMS Rehabilitation Center.
Several years ago, Gutman opened the TMS League in Ukraine to promote sports in his native country, and specifically Brazilian jiu jitsu, which is helpful for young people dealing with various physical and emotional challenges. Over time, TMS grew into a giant league encompassing thousands of athletes, and during the war, even held a tournament that was joined by over 600 athletes.
"It's a form of occupational therapy," explains Gutman. "As the war stretched on, we felt that the need to help soldiers and disadvantaged civilians, and to preserve the emotional health among Ukrainians, took precedence over sports, and we knew that it was time to do more."
Gutman recruited his good friend David Roytman, internationally-acclaimed artist and philanthropist, to the task. Roytman, whose luxury Judaica company earned him the reputation as the "Jewish Louis Vuitton," is no stranger to anguish, anxiety or the trauma of war. Born in Soviet Odessa, he grew up as a living orphan, yet fate led him as a young teen to Israel where he enlisted in the Israel Defense Forces. During his military service, he battled Israel's enemies during Operation Defensive Shield, dodging rockets and bullets in the notorious Jenin refugee camps. After his discharge, Roytman suffered PTSD, yet eventually found his healing through art, and he has since used abstract art to convey messages of peace and healing to others.
Approximately three years ago, Roytman, who splits his time between Israel and his native Odessa, founded Kinder Velt, a center administering developmental and psychological therapies including speech therapy, occupational therapy and emotional counseling to local children from disadvantaged backgrounds. With the outbreak of hostilities in the region, many of the children fled, and the center closed. However, as war continued ravaging the country, claiming 30,000 lives and displacing over 12 million, Roytman reopened his center and is currently bring healing and relief to hundreds of suffering children.
Gutman and Roytman joined forces, directing their common experiences and talents into helping soldiers with PTSD on the battlefield, as well as those who are finally returning home.
"Shay pointed out that we both already had experience in this, so we wouldn't be reinventing the wheel," says Roytman. "What we were doing was just a copy-paste version, tweaking the system to make it work for the soldiers. And he was right."
The colleagues got the project off the ground less than two months ago, and they're already offering help and emotional rehabilitation to soldiers in four cities—in Kyiv, Odessa, Dnipro and Chernivtsi. In addition, they also send delegations of psychologists directly to the front or nearby.
"The positive feedback we're getting is tremendous," Gutman says proudly. "We've been to the front lines where the fighting is very heavy and soldiers fight round the clock. They greet us with open arms and beg us to come back. Unfortunately, there are many soldiers suffering serious trauma, and many feel that they can't go on. One of the biggest challenges that these soldiers face is not knowing how much longer this will take, or if this war will ever end. They're fighting nonstop for a year, and it's taking a tremendous toll."
"In the short time since we've started out, we've already offered great help to many soldiers. A critical part of the job was training the psychologists that we recruited in Ukraine for the task, since most of them lack knowledge and experience in this very delicate realm. Our idea was to train Ukrainian psychologists and teach them the tried-and-true Israeli methods of trauma counseling."
"Since we're looking at a large-scale, long-term project, we searched for strategic partners that would be able to host and support us," explains Roytman. To this end, he contacted Herzl Makov, CEO of the Menachem Begin Heritage Center, who was impressed by the initiative and eager to get on board. TMS brought its whole team of psychologists and therapists to Israel for an intensive seminar in which they were exposed to important professional knowledge.
Makov said, "We really connected to this idea. The Menachem Begin Heritage Center is a public institution in memory of former Prime Minister Begin, and our activities focus on research, education and culture for school-age students, college students, soldiers and the general public. Our goal is to perpetuate his legacy and leadership model, but not only. We're very devoted to dealing with the needs of the times, and this war necessitated training Ukrainian psychologists, so we agreed to host a group of 15 mental health professionals who underwent intensive trauma-treatment training by specialists from the Israeli Trauma Coalition."
"The Coalition's specialists have been working with Ukrainian professionals since the start of the war, and they've also participated in assorted projects to support Ukrainian civilians," Alex Gershanov, psycho-educational project director of the Israel Trauma Coalition, says with satisfaction. "We've invested into training professionals, because the trauma suffered by Ukrainian men, women and children is tremendous. We've translated reams of professional materials that we've accumulated over many years, and we've also adapted many of the tools that we use here in Israel for the benefit of our Ukrainian colleagues."
"It's really just a drop in the bucket," Makov asserts, "but we're hoping that this seminar will evolve into a regular part of the help package that Israel is offering to Ukraine, because the need is fundamental."
TMS's training is free, as is the counseling offered to soldiers with PTSD on the front and returning from the battlefield. Although not much time has passed yet, and it's difficult to prove success in such a short time span, the positive feedback they've received from the soldiers is enough to convince the project initiators to carry on and expand their efforts.
"I believe that one of the reasons that we identify so strongly with the Ukrainian people right now is because they—like us—are battling forces far greater than them, and somehow, still enduring!" states Gutman. "Besides for that, we—the Jewish people—have undergone many trials and tribulations throughout our nation's history, and it's very significant when we can cull from our experiences and suffering to help others in their time of need and hardship."
"TMS is also an acronym for The Mission: Success," he says with a twinkle in his eye. "Being that this is a large-scale, long-term project that will likely span many years, or possibly decades, we're regarding the Menachem Begin Heritage Center as TMS Rehabilitation Center's Israeli partner, and I believe that as we advance, they too, will play a larger role in our activities. For starters, we're looking to bring hundreds of Ukrainian mental health professionals to Israel to receive professional training and improve their skills, and I hope that the Begin Heritage Center will continue welcoming them as long as this project continues."
"Awareness of PTSD in Ukraine is minimal, and we knew that Israeli knowledge and professionalism in this field was very high and with their contributions, we could go far," adds Roytman. "With the Israelis supporting us in this vital project and helping us incorporate it into the Ukrainian army, we're empowering soldiers, strengthening them, helping them deal with their problems, and also helping civilians—because the problem is not only among the fighters, but also among civilians. We've been there on the front lines, and we want to keep helping the soldiers. We want to keep coming back."