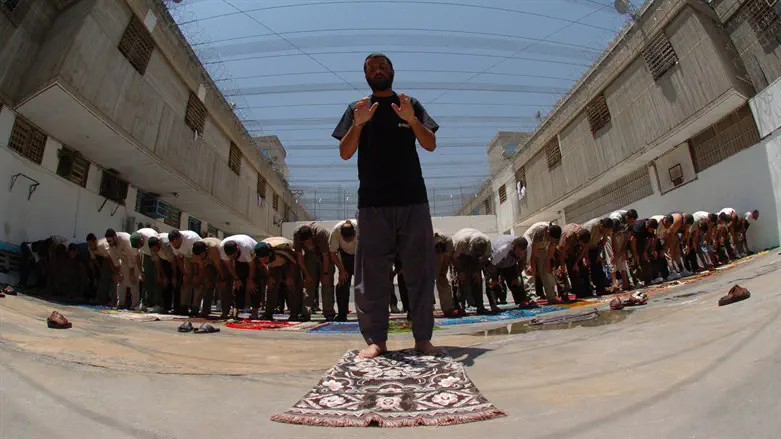 Terrorist prisoners
Nati Shohat/Flash 90
Palestinian Arab officials are warning against the consequences of the approval of death penalty for terrorists law, which was approved in a preliminary reading in the Knesset plenum on Wednesday by a majority of 55 supporters against 9 opponents.
In an interview with the Hamas-affiliated Al-Risala news website, a spokesman for the Prisoners' Media Bureau said that "if the occupation implements its decision, it will open the gates of hell, and it will face an intifada that will uproot its existence, and it will realize that it has made the stupidest move in its history when it sees the bags containing the bodies of his soldiers and settlers."
"We swear by Allah that this decision will be the greatest disaster that will bring trouble to the (Zionist) entity, and the enemy will know that the prisoners are not easy prey for it," the spokesman said, adding, "Implementing the decision means igniting an uprising that will burn everything under the feet of the occupation" and that "the occupation has left no basis for understanding with the prisoners, and left them no choice but to initiate an open confrontation."
The Hamas terrorist organization stated that the bill is an attempt to legalize the "actions of killing" against Palestinian Arabs and is "a criminal racist measure that reflects the approach of the fascist government."
Hamas also stressed that the continuation of the "policy of executions in cold blood in the field will not terrorize the Palestinian people who will continue their resistance."