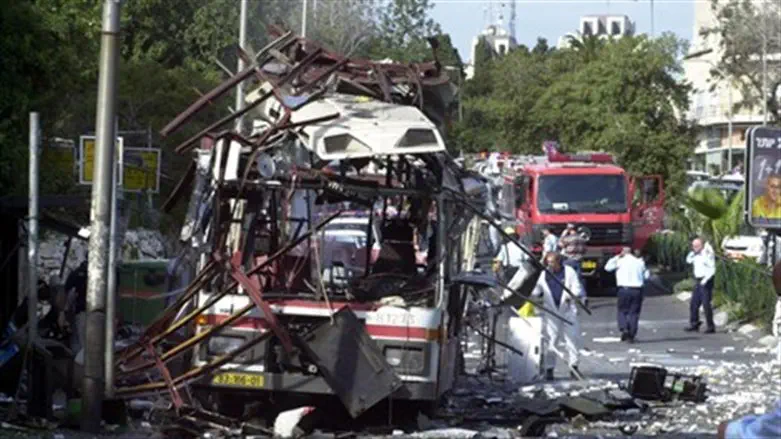 Bus 37 suicide attack in Haifa
Flash 90
Interior Minister Michael Malchieli has decided that a terrorist who assisted in the Bus 37 suicide bombing in Haifa and is expected to be released from prison soon, will be subject to a restriction and will not be permitted to live in Haifa upon his release.
The attack occurred on March 5, 2003, when a Hamas suicide bomber from Hebron detonated a bomb hidden underneath his clothes on an Egged bus carrying many children and teenagers on their way home from school. The explosion occurred while the bus was packed with commuters. The attack killed 17 people and wounded 53.
Munir Rajabi, the Arab Israeli who aided the suicide bomber, was captured and sentenced to life in prison but will be released soon.
According to a report on Channel 12 News on Monday, the terrorist is considered a temporary resident after former Interior Minister Aryeh Deri revoked his blue ID card, and therefore there is a possibility of imposing a restriction on him that would prohibit his residence in Haifa.
A notice in this regard was sent to the terrorist, and he is entitled to appeal to the Supreme Court.
Yossi Tzur, father of Assaf who was murdered in the attack, told Channel 12 News, "It took us a very long time and we went through a lot of hardships until we reached this moment. Deri denied him his identity card in 2019, and now the Ministry of the Interior made a move that restricts him from living in Haifa."
"We started the process through the Ministry of Defense, we asked Benny Gantz, who was the Minister of Defense at the time, and from there it went to the Ministry of the Interior. We have been biting our nails for the past few weeks and waited for the Attorney General to approve the move, because this is a precedent-setting move. We are satisfied, the nightmare is over," added Tzur.