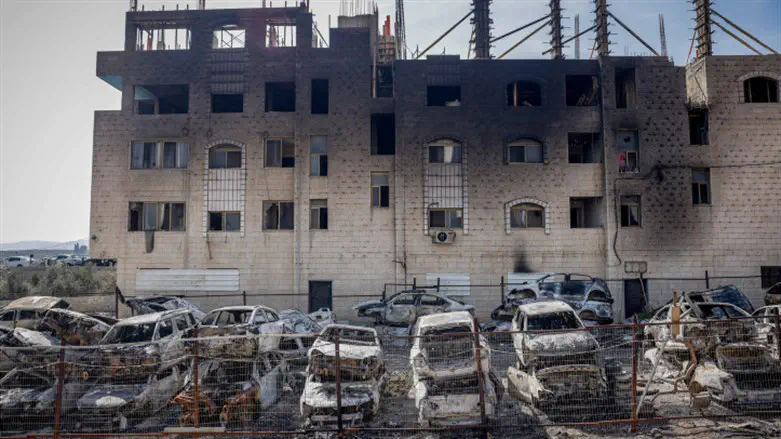 Torched cars and building in Huwara, February 27th, 2023
Erik Marmor/Flash90
A Coalition MK praised Jewish rioters who torched cars and buildings in the Arab village of Huwara in Samaria overnight, hours after a terrorist murdered two young Israeli men in Huwara.
MK Zvika Fogel (Otzma Yehudit), a retired IDF brigadier general, told Galei Yisrael radio Monday morning that he wanted to see Huwara "shuttered and burned" in response to Sunday's attack and subsequent celebrations by local Arabs.
"What residents of Judea and Samaria did last night in Huwara was to create the strongest deterrent the State of Israel has had since Defensive Shield," referring to the spring 2002 IDF operation against terrorist cells in cities across the Palestinian Authority.
"After murders like those yesterday, when the army doesn't take action, villages need to burn."
"Yesterday a terrorist went out in Huwara, so Huwara should be shuttered and burned. That is what I want to see. That is the only way we will attain deterrence. If we stop settling, we won't gain sovereignty."
"I want to restore security to the people of the State of Israel. How do we do that? We have to get rid of the word 'proportional;' we have to rid ourselves of the lack will to use collective punishment just because it isn't fitting according to all sorts of courts. It's time for the gloves to come off."
Palestinian Authority media outlets, including WAFA, claim that hundreds of Jews rioted in Huwara Sunday night, torching some 50 cars and more than 15 buildings.
Roughly 380 locals were injured and one person was killed, according to the reports.
Three Jews were injured by Arab rioters who threw stones at them. Two more were injured from gas grenades thrown by Israeli security personnel.
The attack occurred on Route 60, the primary north-south traffic artery in Judea and Samaria, when the terrorist approached the victims' car and fired between 10 to 15 rounds from a handgun at pointblank range.
Two brothers, Har Bracha residents, 22-year-old Hillel Menachem Yaniv and 20-year-old Yagel Yaakov Yaniv, were killed.