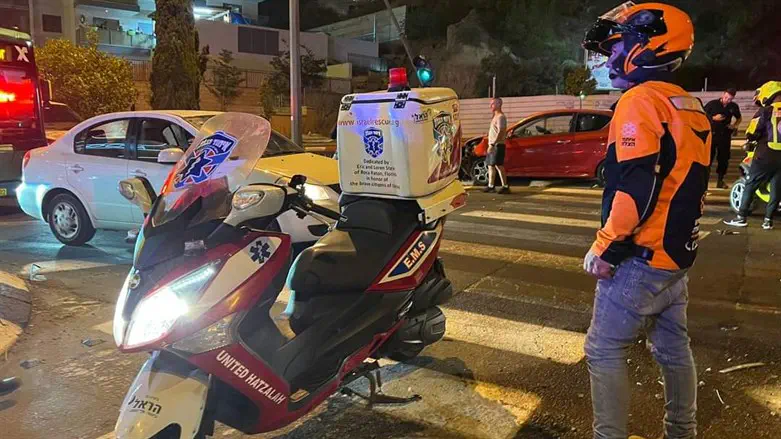 Golan Levi
United Hatzalah
Just minutes before Shabbat came in last Friday, a family called for help when their 7-year-old daughter suddenly collapsed after suffering a sudden cardiac arrest in Rehovot.
United Hatzalah volunteer EMTs Golan Levi and Yair Biezuner received the proximity alert and without wasting a second, jumped on their respective ambucycles, flicked on lights and sirens, and raced to the scene. Yair arrived first in under two minutes, followed by Golan 30 seconds later. They were met with the frantic sight of a family desperately trying to revive their daughter. The two volunteers immediately sprang into action, quickly assessing the situation and taking charge of the emergency.
"When observing that she was pulseless, I had to fight an inner voice that was telling me: 'you are imagining, you must be missing her pulse, it can't be that you need to start CPR on a 7-year-old girl," said Yair after the incident. "Within a split second, I regained my composure and initiated CPR."
The pair worked tirelessly to revive the girl's heart, administering CPR and using a defibrillator. The tension was palpable as the two volunteers worked in tandem, focused on the task at hand, and determined to save the young girl's life. "She received two electric shocks from my defibrillator," added Golan. "After the third shock, she awakened, but then lost her pulse again."
The efforts continued and about ten minutes later, the two volunteers were joined by more first responders and an intensive care ambulance crew, which attached a heart monitor and began administering medications. After four more shocks were administered, the girl's pulse stabilized. "The joy in the room was just incredible," recalled Yair. "It was a joy that was mixed with concern and sadness, but it was such a powerful feeling. There was not a dry eye in the room."
The girl was then transported to the hospital, intubated and sedated but with a pulse, while Yair stayed with the girl's young siblings until members of United Hatzalah's Psychotrauma and Crisis Response Unit arrived at the scene.
Reflecting on the incident, he said: "I have a feeling that we had Heavenly help that made it possible to save this girl. Just moments before I received the call, I had finished tending to the victims of a car crash and for some reason decided to park my ambucycle just by the gate of my house, which I don't do usually and saved me precious seconds. Not to mention the incredible tool that ambucycles are. They helped us save this girl's life and prevent her brain from lacking oxygen for too long. It gives me chills just to talk about it."
Golan concluded: "I decided to volunteer with United Hatzalah following the disease of an uncle of mine, during which I saw the ability of so many people to show ahavat chinam (gratuitous love), without expecting anything in return, and I wanted to be part of this as well. I spent the whole Shabbat praying for this girl not to have any brain damage and when we visited her on Saturday night, she was watching TV, alive and well. I was so relieved."