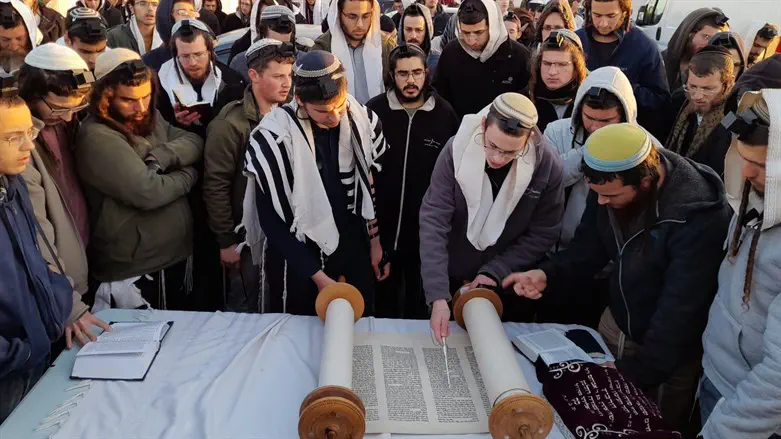 Mass prayer service at Evyatar Monday morning
Courtesy
Hundreds of settlement activists spent the night in the outpost town of Evyatar overnight, after attempts by Israeli security forces to evict them Sunday night failed.
Activists streamed to Evyatar – an unauthorized outpost built near Tapuah Junction in Samaria at the scene of a deadly terrorist attack – after two brothers from Har Bracha were murdered in a terrorist shooting attack in Huwara north of Tapuah Junction Sunday afternoon.
The move came after about a year and a half in which Israel's governments did not fulfill an agreement signed with the residents of Evyatar. The agreement stipulated that the residents would leave the outpost and, in return, Israel would convert the site into a hesder yeshiva.
MK Tzvi Sukkot (Otzma Yehudit) was among those ensconced in the outpost overnight.
"The correct answer to terrorism is building and settlement, that is what deters lowly terrorists, and that is how we should respond, including a full return to the town of Evyatar today," Sukkot said.
After the failure Sunday night of security forces to remove the hundreds of activists from Evyatar, additional units were deployed to the outpost Monday morning, ahead of renewed efforts to evict the activists.
The Otzma Yehudit party announced Monday morning that it will hold a faction meeting in Evyatar at 11:30 a.m., during which party chairman National Security Minister Itamar Ben-Gvir will hold a press conference.
Earlier on Monday, Ben-Gvir called on Prime Minister Benjamin Netanyahu to allow former residents of Evyatar to remain at the outpost.