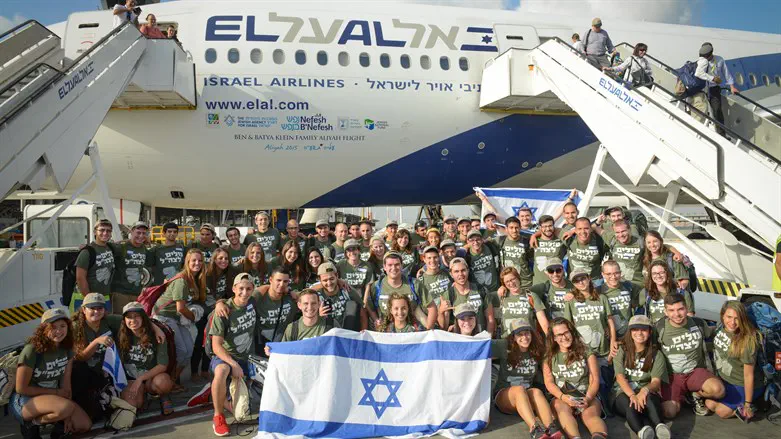 Olim from North America arrive in Israel
Nefesh B'Nefesh
With the approval of Israel's 2023-2024 budget after a lengthy cabinet meeting on Friday, Immigrant Absorption Minister Ofir Sofer managed to upgrade his ministry's budget for the coming two years.
The ministry will receive an additional budget of 220 million NIS this year and, in 2024, an additional 250 million NIS.
Minister Sofer demanded a significant addition to his ministry's budget in light of the 75,000 new immigrants who arrived in Israel over the past year, nearly three times the amount of those in the previous year. The majority of the new immigrants arrived from Ukraine and Russia as a result of the war between the two nations, and more are expected to arrive from those counties this year as well.
The budget will be directed to absorption programs for the many immigrants who arrived in the past year, programs to encourage the immigration of communities and students, and resources to assist new immigrants in joining the workforce. In addition, the ministry will receive an additional 70 positions in the staffing quota, which will help the ministry assign more workers to immigrant programs and reinforce absorption centers.
The programs which Minister Sofer is expected to promote will integrate immigrant doctors and other professionals. In the past year, nearly 1000 doctors immigrated to Israel, and their integration into clinics and hospitals is expected to ease the current overcrowding. In addition, 4,000 engineers and 1,700 teachers immigrated to Israel, both professions needed in the Israeli economy.
"As I said in recent weeks, without a significant increase in the budget for the ministry, we would be facing a serious crisis in light of the substantial rise in immigration due to the Russia-Ukraine war," Sofer stated after the cabinet meeting during which the state's budget was decided.
The minister added: "In order to ease the absorption and integration of the immigrants to Israel and to encourage Jews to immigrate to Israel, we have to invest efforts to integrate the immigrants into the workforce by recognizing degrees and diplomas together with teaching the language. I am glad that I managed to enlist the Finance MInistry staff in understanding the importance of aiding immigrants, and despite the budget difficulties, I managed to obtain a substantial addition to my ministry. I thank Finance Minister Bezalel Smotrich for his support."
In addition, Sofer said that due to the budget increase, he would be able to direct funds to encourage immigration from the US and France: "Over the past year, there was a significant drop of a few dozen percent in the quantity of American and French immigrants. The data from files being opened at the Jewish Agency shows a continuous trend, and this obligates us to form quality absorption programs and programs to encourage immigration from these areas."