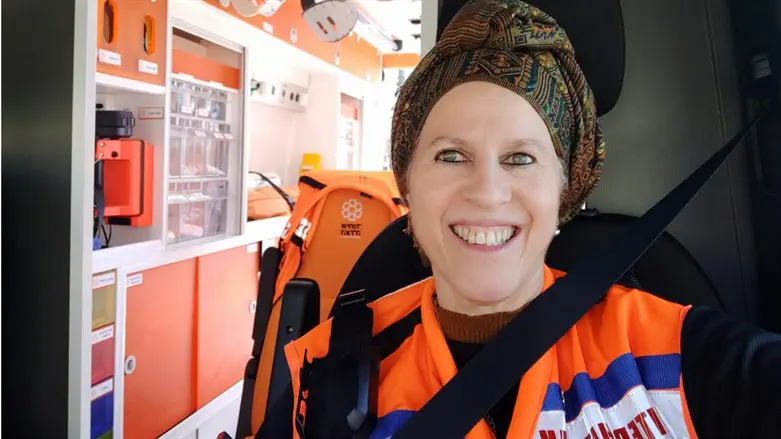 Joelle Cohen
United Hatzalah
In the early afternoon of Wednesday, a man in his 70s suffered a sudden cardiac arrest at a diabetes clinic in the Beit Hakerem neighborhood of Jerusalem. The clinic staff immediately called for help, and a paramedic from the clinic began to administer CPR and delivered one shock with a defibrillator.

Within ninety seconds, a United Hatzalah ambulance team arrived on the scene. 61-year-old United Hatzalah volunteer EMT Joelle Cohen quickly took over performing chest compressions in rotation with other crew members and opened an IV line for the paramedic.

At the same time, an additional paramedic arrived at the scene and joined the efforts to save the patient's life. As the rescue efforts kicked off, the combined EMS team worked tirelessly to revive the patient by performing chest compressions and providing the man with assisted ventilation.

Five minutes later, an intensive care ambulance arrived and the paramedic on board took over the patient's care by administering medications and attaching a heart monitor. After twenty-five minutes of intense efforts and two additional electric shocks, the patient's pulse finally returned and his condition stabilized. He was then carefully transferred to the intensive care ambulance and transported to the nearest hospital for further care.

Following the successful resuscitation, Joelle Cohen shared her thoughts on the matter: "I started volunteering for United Hatzalah five years ago because I wanted to continue helping other people after retiring from the medical field to take care of my kids. Successfully reviving someone is one of the most incredible feelings in the world and I'm grateful for the opportunity to make a difference in someone's life at United Hatzalah."