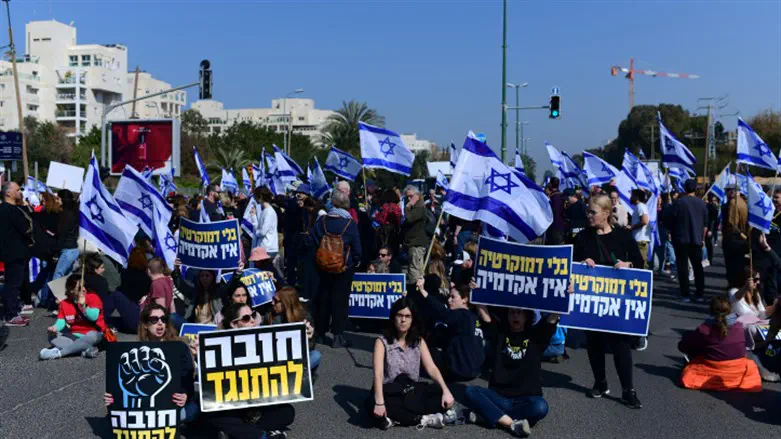 Anti-judicial reform protesters hut down road in Tel Aviv
Tomer Neuberg/FLASH90
Protesters demonstrating against the Netanyahu government's judicial reform plan blocked traffic on major roads across Israel Monday morning, ahead of a mass protest rally outside of the Knesset.
Demonstrators shut down traffic on Route 1, Israel's primary roadway linking Tel Aviv and Jerusalem, near the Hemed Interchange just west of the capital.
Protest organizers declared a "National Day of Struggle" Monday, and launched a series of road-blockings beginning at 8:00 a.m., including multiple closures in Haifa, Raanana, Jerusalem, and Tel Aviv.
The demonstrations are slated to culminate in the mass protest in Jerusalem, beginning at 2:00 p.m., with a smaller rally expected to be held in Haifa.
Earlier on Monday, eight protesters were arrested after they attempted to prevent Coalition lawmakers from leaving their homes to attend a key vote in the Knesset on the judicial reform plan.
A group of demonstrators from the Block the Revolution organization surrounded the apartment of Likud MK Tally Gotliv in Givat Shmuel, while other protesters gathered outside the homes of Agriculture Minister Avi Dichter (Likud) in Ashkelon and Education Minister Yoav Kisch (Likud) in Ramat Gan.
In Gush Etzion, protesters from the Ahim L'Neshek (Brothers in Arms) group attempted to block Justice Committee chairman MK Simcha Rothman's (Religious Zionist Party) car as he left his home in Pnei Kedem.
The Knesset is set to hold its first vote on a key bill in the government's judicial reform plan.
The proposed legislation would dramatically increase the power of the Knesset and government in the judicial selection committee, which currently has a 5-to-4 majority of unelected officials, including judges and members of the Israel Bar Association.
The bill, if passed, would also explicitly bar the Supreme Court from overruling amendments to Israel's Basic Laws.