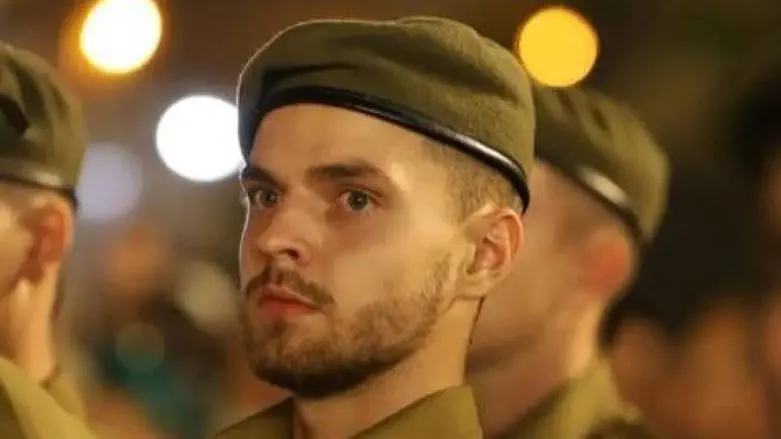 Cpl. Denis Zinoviev
IDF Spokesperson
Three soldiers who were in the room next to that of Cpl. Denis Zinoviev at the Kfir Battalion training base, when a grenade exploded in January, killing him and injuring three more people, were unable to administer first-aid since they had not received basic first-aid kits.
According to a report by Carmela Menashe on Kan Reshet Bet radio, the IDF ceased to distribute the first aid kits, due to a lack of funds.
The soldiers from the special unit who were in the room next door stated: "This is an embarrassing and painful disgrace, it's frustrating, we wanted to save lives since that's what we were taught, but we didn't have bandages and tourniquets, the basic tools for life-saving. Other than Denis, there were other soldiers who were wounded, and we had no way to help."
The parents of the soldiers from the special unit were furious and amazed by the IDF's decision and decided to buy first-aid kits out of their own pockets.
Yitzhak, one of the parents, told Kan Reshet Bet: "It sounds crazy, we couldn't believe it. What's the story? To save money, they're skimping on the option to save the wounded? Mabey to save a human life? Will they stop giving out dog tags too? You can save money by doing that too". The parents only discovered the decision when they asked their children if they attempted to administer first-aid.
The IDF Spokesperson stated: "The IDF expresses regret for the death of Cpl. Denis Zinoviev, shares in the family's sorrow, and will continue to accompany the family. After Denis's death, a military police inquiry was immediately opened. At the conclusion of the investigation, the findings will be sent to be examined by the military prosecutor. We must note that the medical treatment at the Kfir training base is ample, and every company and platoon has the equipment and a medic on site when needed.