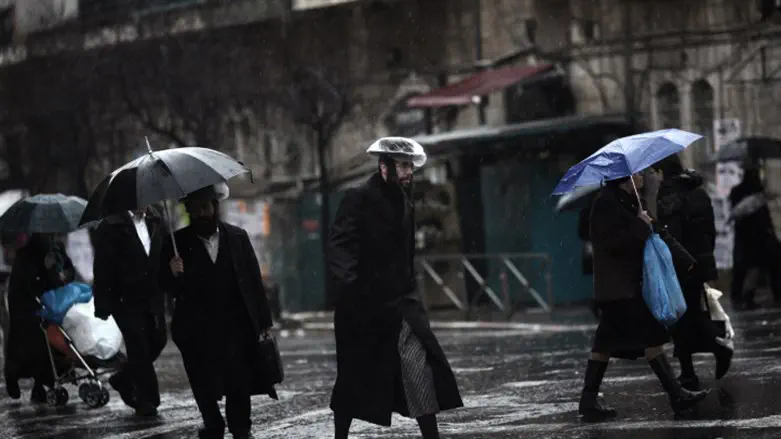 Rainy day in Mea Shearim, Jerusalem
Flash 90
(JNS) Without Jerusalem and Hebron, I would have remained a Jew in name only, as I had been during the first 35 years of my life. My transformation began when I crossed paths with a former colleague who had just returned from a trip to Israel for "disaffected" Jewish professors. I instantly realized that I was qualified for such a trip.
On my first night in Jerusalem, I followed a map that guided me to the Old City. Inside Jaffa Gate, uncertain where to go, I trailed an haredi man, dressed in black with side curls, who seemed certain of his destination. Weaving through dark and empty streets, we turned a corner and there, looming ahead, was a massive wall. I knew enough to realize that it was the Western Wall, a remnant of the ancient Jewish Temple. I was awestruck.
Several days later our bus took us to Hebron to meet with the Arab mayor. I knew nothing about Hebron's place in Jewish history. As we passed an enormous rectangular stone structure with two high towers, I asked our guide to identify it. He replied: "Mearat HaMachpelah." What is that? I asked. He responded, "The burial site of the biblical patriarchs and matriarchs." I was fascinated, as I had been with my first glimpse of the Western Wall.
My encounters with the two ancient holy cities of the Jewish people were a transformative experience. One year later, I applied for and received a Fulbright professorship at Tel Aviv University. But I knew from a brief stopover in that teeming, noisy city that Jerusalem was where I wanted to be. I lived in the beautiful neighborhood of Rehavia with my family. Walking my young children to school, the only language I heard was Hebrew, but I felt at home.
Occasionally, I ventured into the nearby neighborhood of Sha'arei Chesed. In this tiny, self-enclosed Orthodox community, I sat on a stone ledge near a synagogue and watched the flow of men, often accompanied by their young sons, to and from prayer. We were all Jews, but they lived in a Jewish world that was foreign to me. Yet as I walked through the neighborhood one evening during Hanukkah and saw flickering candles in nearly every window, I realized that their Jewish world was also mine.
Drawn for reasons unknown to Orthodox neighborhoods where I was a stranger, I discovered Mea Shearim. It was another Jewish world, an haredi world. But once I passed a street sign labeled Rehov Averbuch I felt at home. One morning, walking past a store with empty windows and an open door, I ventured inside. Invited by the owner to sit down, surrounded by shelves filled with closed cartons, I began a decades-long friendship with Dovid Ezra.
Over time, I learned that Dovid had left Iraq to fight in Israel's War of Independence, in which he was severely wounded. His booming voice and assertive opinions—to say nothing of his amazing collection of engraved copper bowls, pitchers and plates (many of which, over time, I would purchase for my own collection)—engaged me over decades of visits. Invited to his home for a raucous Purim celebration overflowing with his (nine) children and friends, I encountered another fascinating Jewish world.
Then there was Hebron. Something about my brief visit there sparked my interest. The tiny and decrepit Jewish enclave at the edge of a flourishing Arab city, only a few minutes walk from Machpelah, opened a window to the beginning of Jewish history in the promised biblical homeland. Fascinated by the Jews who were least like me, I returned to meet with its leaders and learn more about this unique community. After several visits, I was inspired to write the first English-language history of Hebron Jews.
My explorations in Jerusalem and Hebron, and fascinating conversations with Jews unlike any I had ever known, were transformative. They enabled me to leave behind the inheritance and embrace of assimilation that had guided my early years. In these ancient holy cities, I finally became a Jew.
Jerold S. Auerbach is the author of twelve books including Hebron Jews: Memory and Conflict in the Land of Israel (2009).