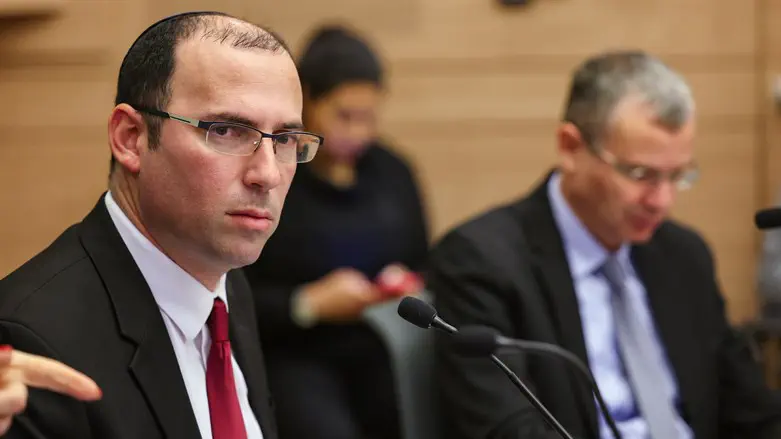 MK Simcha Rothman
Yonatan Sindel/Flash90
The Coalition announced Wednesday afternoon that a planned vote on a key element of the Netanyahu government's judicial reform plan has been cancelled.
Following a debate earlier this week by the Knesset's Constitution, Law and Justice Committee, the Knesset plenum had been scheduled to vote Wednesday on the Override Clause, an amendment to the country's Basic Laws which would explicitly empower the Knesset to veto Supreme Court rulings overturning Knesset laws.
The bill, one of the most controversial in the judicial reform package, is aimed at curbing judicial activism by the high court – though some critics on the Right, such as attorney Yoram Sheftel have argued that without a constitution, the Supreme Court has no right to overturn Knesset laws. The Override Clause, they argue, effectively grants the Supreme Court a right to judicial review of Knesset laws.
In addition to the Override Clause bill, the Coalition also cancelled a vote planned for Wednesday on legislation aimed at allowing former Interior Minister Aryeh Deri to be appointed back to the government, after the Supreme Court overturned his appointment last month.
Coalition chairman Ofir Katz (Likud) said the decision to nix the planned votes was made in response to the request by President Isaac Herzog, in order to foster goodwill between the Coalition and the Opposition and in the hopes of facilitating talks towards a compromise.
However, the architects of the judicial reform plan – Constitution, Law and Justice Committee chairman MK Simcha Rothman (Religious Zionist Party) and Justice Minister Yariv Levin (Likud) denied the cancelling of Wednesday's votes constituted a concession to Opposition MKs on the judicial reform plan.
"The laws which were taken off today's agenda are not related to the judicial reform plan which is being handled by the Constitution Committee. They were removed based on the decisions of the MKs who drafted them."
"The passage of the judicial reform plan will continue without delay. The Constitution Committee will continue its deliberations as planned on Sunday. Next Monday, the bill approved by the committee will go up for its first vote [in the Knesset plenum], as planned."
But Opposition Leader Yair Lapid quickly touted the cancellation of the votes as a victory.
"Every person who left their home to demonstrate with a flag and a sign can tell themselves that we fought together and we succeeded in delaying this bill which would crush democracy, which will not be brought for a vote today in the Knesset plenum."