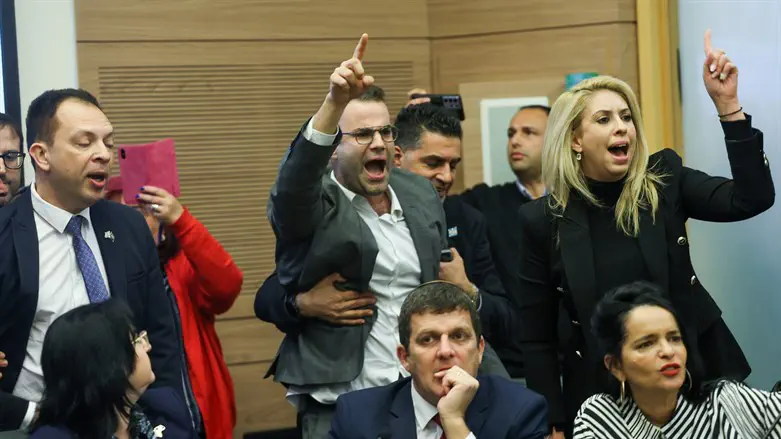 Chaos in the committee
Yonatan Sindel/Flash90
Following a stormy and at times chaotic debate in the Knesset's Constitution, Law, and Justice Committee, the first of the government's proposed legal reforms to alter the composition of the committee that appoints judges was passed in its first vote, clearing its passage to the Knesset plenum.
During the debate, 14 committee members were ejected from the conference room for unruly and disruptive behavior. Some had to be physically dragged out while loudly protesting their removal.
The disruptions began with opposition members from the Yesh Atid party singing, "Ein li eretz acheret" (I have no other country) but quickly descended into pandemonium with shouting and screaming, committee members jumping over the table to confront the chairman, MK Simcha Rothman, and others sitting down on the floor in order to prevent their being removed by ushers.
The chaos erupted mere hours after both the President, Isaac Herzog, and the committee chairman, Simcha Rothman, called for dialogue. Adding his voice to those calling for calm consideration was Likud MK Yuli Edelstein, chairman of the Knesset's Foreign Affairs and Defense Committee.
"People care deeply about changes being made to the judicial system," he said on Monday. "In order to implement these changes, we must immediately begin dialogue. Aside from extremist elements, we all understand how important this is, which is why there's no reason to man the barricades—we can do this together, with broad consensus, for the benefit of the entire nation."
צפו: כמעט עימותים פיזיים בוועדה
ערוץ 7
ח"כ רון כץ מסרב לצאת מהוועדה
ערוץ 7