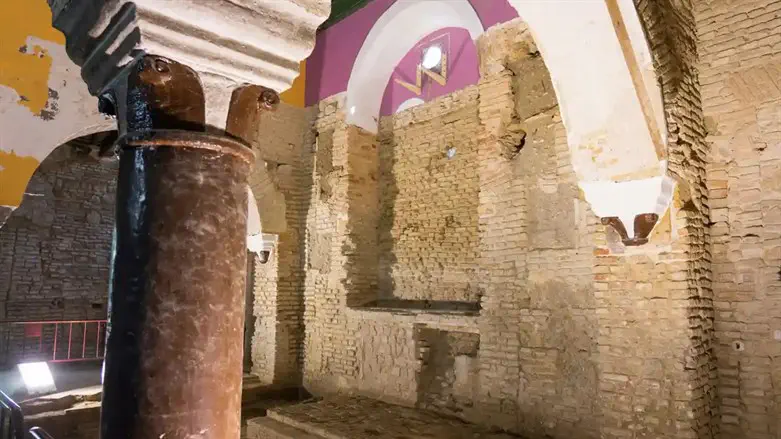 A 14th-century synagogue Utrera was unearthed by archeologists in Spain
Courtesy Utrera City council
Archaeologists working in a town in southwestern Spain have excavated a 14th-century Sephardic synagogue, revealing a fully intact floor plan including a women's section and ritual baths.
The synagogue complex in Utrera, in the province of Seville, is believed to be among the largest ever found on the Iberian Peninsula from the medieval era, comparable to historic synagogues in Toledo, Córdoba and Segovia. Only a handful of synagogues are known to have survived long after the expulsion of Jews from Spain in 1492.
Over the centuries, the building had been used for many purposes: as a hospital in the 17th century, a Catholic chapel, an orphanage, and most recently, in the 20th century, as a school, a restaurant and a cocktail bar. But a 1604 mention by a historian named Rodrigo Caro suggested that it had also been a synagogue at one time.
The excavation has confirmed that, according to archaeologist Miguel Ángel de Dios, who said the synagogue's state of preservation is remarkable. The prayer hall has been identified, and because its floor plan is intact, it's possible that the original area and shape could be restored, he said.
The synagogue was "a unique, extraordinary place, and a gathering point of the emotional and cultural heritage of the people of Utrera," the town's mayor, José María Villalobos, said during a press conference at the site on Tuesday.
Villalobos acknowledged what he said was "significant support" by the Jewish community during the unearthing, which began in November 2021.
Work will continue on the synagogue's unearthed baths and women's section. Utrera's city council aims to open the site soon to visitors, in keeping with a trend among Spanish cities of investing in restoring or uncovering Jewish heritage sites to attract Jewish visitors, particularly from the United States and Israel. (Barcelona launched such two initiatives last year, though its mayor's decision this week to sever ties with Tel Aviv could work against them.)
Villalobas told the Jewish Telegraphic Agency last year that uncovering the synagogue "would put our town on the world map, alongside cities such as Seville. This would be a powerful appeal for Utrera as a major touristic destination."
At the press conference this week, he said he hoped that the site would give locals and visitors alike a window into Jewish history in Utrera, and into the Sephardic diaspora.
"Until now, there were only four such buildings in all of Spain – two in Toledo, one in Segovia and one in Córdoba," Villalobos said. "This is an impressive synagogue that's been part of Utrera and part of its inhabitants' lives for 700 years. This building was built in the 1300s and has made it all the way to the 21st century."