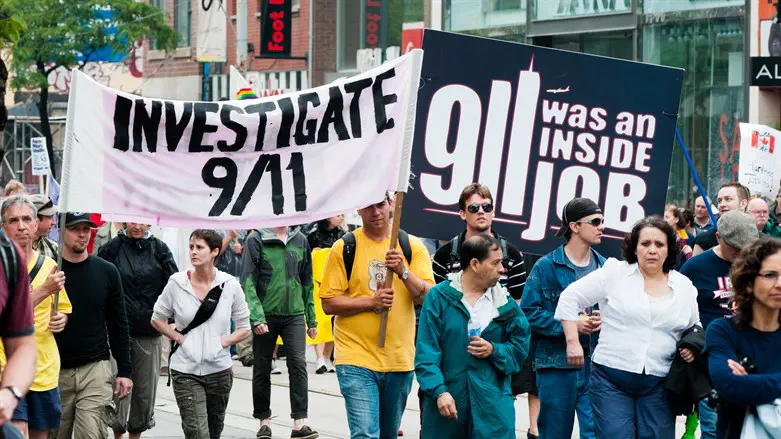 conspiracy theories
iStock
The Board of Deputies of British Jews has denounced UK channel GB News for airing what it termed "conspiratorial antisemitism or other misinformation," calling on the country's communications regulatory agency to step in.
The call was also echoed by the All Party Parliamentary Group (APPG) against Antisemitism after an episode of a weekly program hosted by Neil Oliver that referred to a "silent war" against Britain for "total control of the people" to enact a "one-world government," the Jewish Chronicle reported.
GB News is a British free-to-air television and radio news channel whose television programs are simulcast on the radio.
The Board of Deputies and the MPs demanded that GB News ensure further "antisemitic conspiracy theories" do not air on the channel, saying that otherwise communications regulator Ofcom needs to open an investigation.
According to The Guardian, Oliver's monologue made references to a document titled "Silent Weapons for Quiet War" that contains antisemitic tropes about the Rothschilds.
"It is highly concerning that GB News continues to air a show which embraces all manner of conspiracy theories. Somewhat inevitably, some of those invited on to this show represent organizations that promote antisemitic conspiracy theories. If the channel will not act, we expect that Ofcom will," a Board of Deputies spokesperson told The Guardian.
The MP who co-chairs the APPG against Antisemitism, Nicola Richards, told the outlet: "With any public platform, there is a responsibility not to open the door to conspiratorial antisemitism or other misinformation. No doubt Ofcom will be keeping a close eye on developments at GB News but let's hope that the channel will get its house in order."
Ofcom has received a complaint about GB News and is in the process of making a decision about whether to open an investigation into Oliver's program, according to the Chronicle.