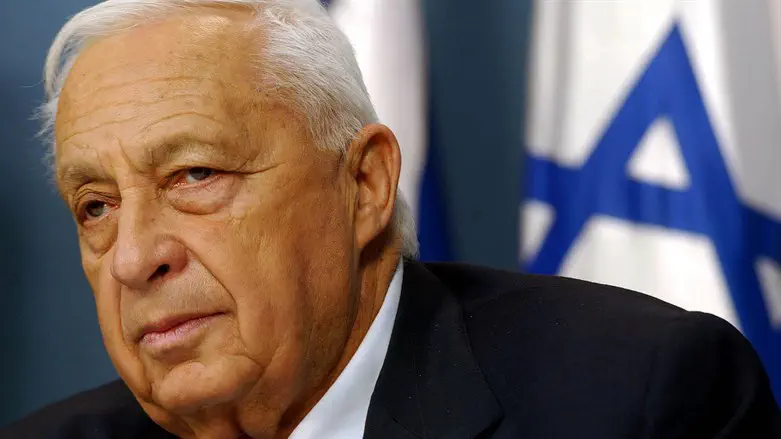 Former PM Ariel Sharon
Flash90
Transcripts of conversations held at the highest international levels have been revealed with the publication of recently opened state archives.
Among the transcripts are those of discussions between former Prime Minister Ariel Sharon and world leaders, conducted around the time of the expulsion from Gaza (the Disengagement). The transcripts reveal that Sharon spoke with PA President Mahmoud Abbas just an hour after the Jewish communities of Gaza were evacuated.
אבו מאזן
צילום: רויטרס
In a telephone call made on August 22nd, 2005, Abbas picks up the phone to Sharon, wishing him, "Good evening," before asking, "How are things progressing today?"
Sharon: "We've finished up in Gaza."
Abbas: "Yes, yes. I applaud you for your brave decision and for overcoming all the opposition you had, from all those who wouldn't go along with it. It was a historic decision."
Sharon: "Thank you very much. It wasn't easy."
Abbas: "I know, I know."
Sharon: "When we met, I told you I'd do it, and now I have."
Abbas: "You said you'd do it and you did. You kept your word. I hope that we can open a fresh page between us and that we will be able to meet up in the near future, either here or in New York, or anywhere. There's so much we can do for peace, for our peoples, and for the entire region."
Sharon: "Thank you for calling. I'll be delighted to meet with you."
Abbas: "Thank you, Mr. Prime Minister. I wish you good health and good spirits, and everything that brings you happiness."
Sharon: "Thank you for the phone call. I hope we will indeed meet."
Abbas: "Thank you very much, and good evening."
קופי אנאן
פלאש 90
Among the world leaders calling Sharon to congratulate him on his decision and implementation was the then-secretary-general of the United Nations, Kofi Annan, who spoke with Sharon a week after the expulsion, on August 29th.
Annan: "I've called, and also publicized an announcement, in order to thank you for your brave and determined action that you took in implementing the Disengagement. This is an historic occasion that provides us with a genuine opportunity to advance peace."
Sharon: "This means a lot to me, thank you. I'm grateful for your call. I want to move forward. The problem is terrorism. Yesterday, there was a suicide bombing with 15 people injured, two of whom are in serious condition."
Annan: "My condolences and sympathies to the government and to those wounded in this brutal attack."
Sharon: "Thank you. I hope to see you."
קונדוליזה רייס | Condoleezza Rice
פלאש 90
Sharon also held a telephone conversation with then-Secretary of State Condoleezza Rice, on September 12th, 2005, just weeks after the expulsion and immediately following the evacuation of several Jewish communities in northern Samaria.
Rice: "I would like to congratulate the government and people of Israel, and especially the security forces, for the respectful way in which the Disengagement was conducted. I have also spoken with [then-IDF Chief of Staff Shaul] Mofaz, and I told him that it had all gone smoothly and that the reason was the detailed planning that went into it."
Sharon: "It wasn't easy. We had to make immense effort, but we did what I told you we would."
Rice: "Absolutely. This is something we very much admire. You'll be meeting with the president in the near future, and he'll tell you how satisfied he is with the way in which everything was done."