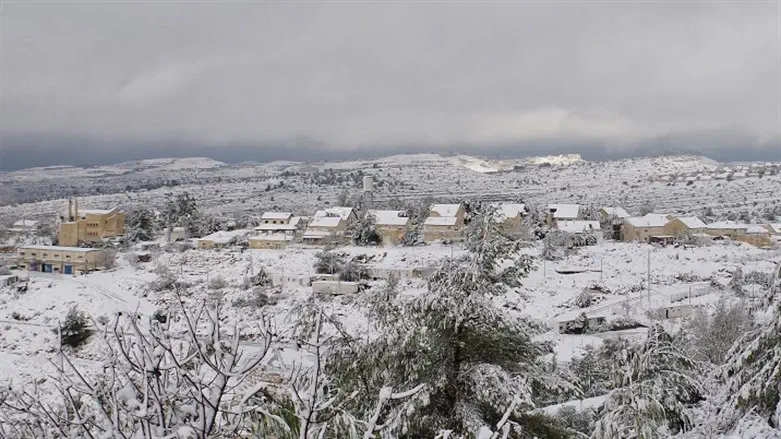 Samaria under a blanket of snow (archive)
Eli Turetsky
The turbulent weather currently prevailing in Israel is expected to reach its peak on Tuesday and Wednesday, with storm winds up to 100 kilometers per hour (over 60mph), heavy rainfall, and extreme cold.
On Tuesday, rainfall will be intermittent and accompanied with thunderstorms, from the north of the country to the northern Negev. Snow will continue to fall on Mount Hermon and other high peaks in the northern Golan and Galilee, with strong westerly winds prevailing. The south of the country will be hazy, and in the Judean Desert and the Dead Sea region, flash floods remain likely.
On Tuesday night, snow will continue to fall across the north of the country and will spread to mountainous parts of the center as well.
On Wednesday, rainfall will continue to be sporadic across the country, while snow will continue to fall on Mount Hermon. During the morning, there will be a light dusting of snow in higher parts of the north and center of the country. During the afternoon hours, the rain and high winds will ease up a little.
On Thursday, the north and center of the country will continue to experience light rain showers and extreme cold. Temperatures will start to rise on Friday but will remain below the seasonal average.
High winds have already caused damage across the country. In Bnei Brak, a piece of metal fencing fell from a tower block, causing several roads to close. In Ohr Yehuda, a 13-year-old girl was injured when a tree collapsed due to high winds. She was taken to hospital with light wounds.
In Ashdod, scaffolding collapsed on a building on Rabbi Akiva Street, falling onto parked cars. Not far away, a tree fell onto a car and also damaged the wall of a nearby building. No injuries were reported. In Tel Aviv, a cyclist was injured when a pane of glass from the window of a nearby building fell onto her.