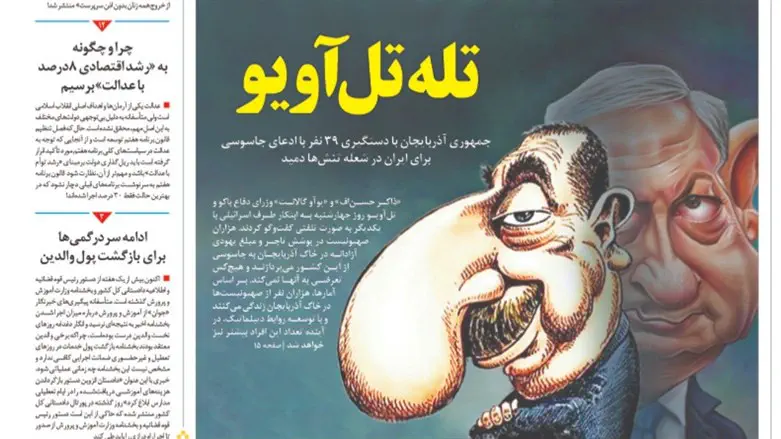 The Iranian paper's caricature
Javan
The strengthening of ties between Israel and Azerbaijan continues to irk Iran, resulting in
accusations against the Jewish community in Azerbaijan's capital, Baku.
Over the weekend, Iranian newspapers published caricatures mocking Israeli Prime Minister Benjamin
Netanyahu and President Ilham Aliyev of Azerbaijan following the announcement of the
strengthening of relations between the two countries over the past few weeks.
An article published in the newspaper, Javan, published in Tehran, the capital of Iran, accused
the Jewish communities of Azerbaijan that "the rabbis who come to the
communities from Israel are actually spies sent by Israel to spy against Iran." Likewise, it claimed
that all Israeli businessmen coming to conduct business in Azerbaijan are spies.
The Azeri Jewish community, which resents the Iranian accusations, has reacted harshly.
In response, Yevgeny Brenneisen, vice chairman of the European Jewish communities in Baku, said
in a speech delivered to rabbis and businessmen, that "An attempt to portray Jewish
businessmen, tourists, and rabbis who come to Azerbaijan as spies is complete nonsense.
Indeed, many Israelis and Jews from all over the world fly to Azerbaijan, which has always been
known for its warm relations with the Jews. Are rabbis spies? A rabbi from Montenegro visited
this week. Is he a spy, too? A Montenegrin?"
In addition, Brenneisen added that "It is possible to understand that the Iranian authorities,
which have been stirring up national discontent over past months, are attempting to find ways to
deflect attention to another subject, however that is simply stupid. These statements and
caricatures were clearly created only for Iran's "internal use."
A member of the Azeri foreign affairs committee, Rasim Musabayov, commented on the Iranian
accusations against the rabbis in Azerbaijan, saying that "The Iranians will not hesitate at any
chance to vilify and provoke wild incitement, even against rabbis. The Iranian line proves the
importance and necessity of ties with Israel."