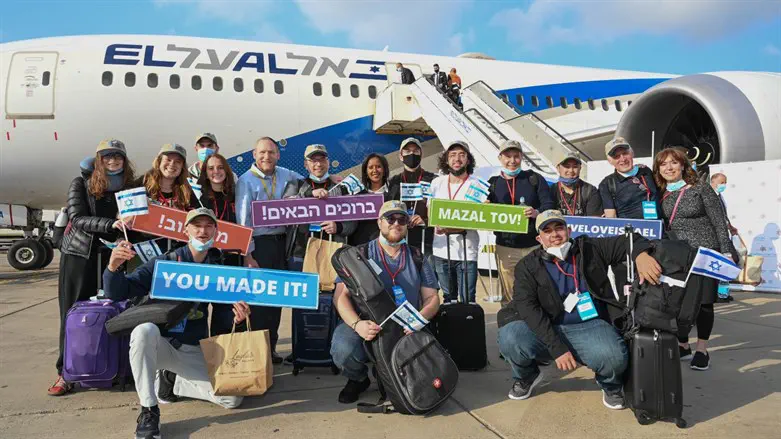 Nefesh B'Nefesh landing
Shahar Azran
Nefesh B'Nefesh, in cooperation with Israel's Ministry of Aliyah and Integration, The Jewish Agency for Israel, Keren Kayemeth LeIsrael and JNF-USA, will host pre-Aliyah events in nine cities across North America in the coming weeks. The informal, open-house-style sessions will feature Nefesh B'Nefesh staff advisors from many departments in the organization, who will be on hand to meet with potential Olim (immigrants to Israel) in order to discuss their Aliyah plans.

The tour will begin in South Florida on February 6 and 7, then head to Los Angeles on February 9 and 12 before traveling to Atlanta on March 12, Chicago on March 13, Skokie, IL on March 14, Rockville, MD on March 15 and finishing in Baltimore on March 16.

While attendees are requested to register in advance, appointment times are not necessary. Maintaining this informal framework allows organizers to meet the needs of various attendees without confining them to certain rooms and times. From retirees following their kids to Israel, to young families seeking information regarding the paperwork they must submit, to those who are only at the very beginning of their Aliyah journey, Nefesh B'Nefesh staff will address the myriad of questions participants may have.

Attendees can attend the seminar for as long they want or come for a quick 15-minute visit to have a question answered.

"Our upcoming tour is aimed at spending time with all our potential Olim to make sure they have the tools needed to complete a successful Aliyah, regardless of their personal timeline," said Sarah Kantor, Head of Events & Marketing at Nefesh B'Nefesh. "Our NBN on Tour, is an opportunity for us to meet our Olim face-to-face and is just one of the tools at our disposal to ensure that the Aliyah process is as seamless as possible, and that potential Olim truly feel our hand in helping to build successful Aliyah plans."

Each stop on the tour will feature experts from the organization who represent the relevant components and features of the Aliyah journey. From discussing the documents needed to complete the Aliyah process, to consulting on the elements of life in Israel such as employment, communities, and education, Nefesh B'Nefesh staff are well-prepared to speak with each and every relevant attendee.