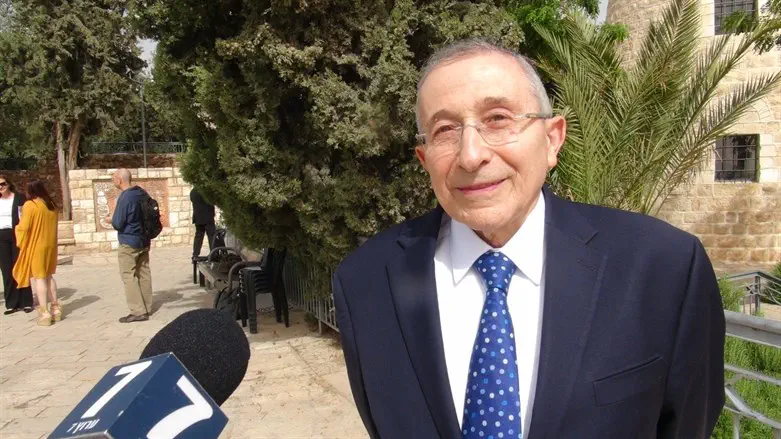 Rabbi Marvin Hier in Jerusalem
Hezki Baruch
Rabbi Marvin Hier, the founder, CEO and president of the Simon Wiesenthal Center (SWC) and its Museum of Tolerance (MOT), has announced that he is retiring.
The 84-year old leader of the center will transition to become its Dean Emeritus and an executive search firm is narrowing down a list of candidates to replace him as CEO, a process which began in December.
He told the Jewish Journal that he plans to train his successor.
"I'll give them advice on what the history of our institution is about. With my experience in this field, I would tell them the best thing is you have to speak to everybody. You can't judge people," Hier said.
While he founded SWC, he stressed that the organization's success is due not only to him but to the many people who have worked for the human rights center over the years, which was originally founded by Hier alongside Nazi hunter Simon Wiesenthal in order to combat antisemitism.
He also credited Frank Sinatra with essential help in the establishment of the SWC in terms of financial backing and community support in the Los Angeles area.
"With Sinatra, you couldn't keep him away from us," Hier said. "Here's what he did for us. Contacted everyone that he knew in the entertainment industry. First of all, he introduced me to Lew Wasserman, Wasserman passed it on to Sidney Sheinberg. And from Sidney, it went to Jeffrey Katzenberg. Sinatra was unbelievable. He was a true friend."
On the topic of the increase today in antisemitic in the US by the far-right and the far-left, Hier said: "Jew hatred all over the world is one of the big hatreds in our time."
"If Simon Wiesenthal were alive today to see what's going on with bigotry and antisemitism everywhere, he'd live in either New York or LA," he said.
"Because he always used to say when everybody asked him, 'Simon, why are you living in Vienna?' And he said, 'I live in Vienna because I'm hunting the Nazis, so I live in a place where the Nazis live.' But today, he would see where the bigotry in antisemitism is taking place – everywhere."
"So he wouldn't have to live in Vienna, he could live in LA and live in New York and have plenty to do," he added.
(Israel National News' North American desk is keeping you updated until the start of Shabbat in New York. The time posted automatically on all Israel National News articles, however, is Israeli time.)