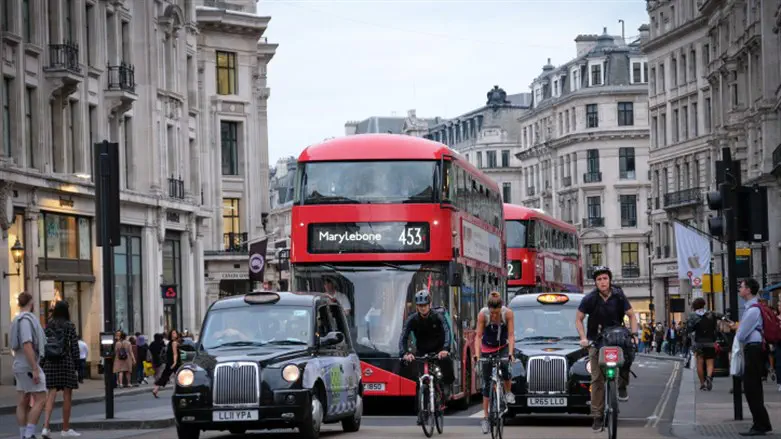 London (archive)
Nati Shohat/FLASH90
The Islamic organization that is purchasing the Wembley United Synagogue property has apologized for a fundraising flyer that described the synagogue as "a place of worship of non-believers."
The fundraising initiative from Dawat-e-Islami, an international Sunni Muslim organization based in Pakistan, caused an outcry on social media, including on the "Friends of Wembley Shul" Facebook group, for the offensive description of the synagogue, the UK Jewish News reported.
Dawat-e-Islami apologized to the synagogue on Wednesday in an email to Wembley Synagogue chair Charles Vitez.
Wembley United Synagogue held a farewell event attended by Chief Rabbi Ephraim Mirvis in December marking the closing of the synagogue's current location after 60 years.
The congregation put the property up for sale and is moving into a smaller venue due to dwindling numbers, with London's Jewish community today mainly living in other neighborhoods.
Dawat-e-Islami's Hasan Ali Safdar wrote in the email: "The wording on the leaflet stated the building is 'a former place of worship of non-believers', which was referring to non-believers of Islam i.e. any other religion. The wording was never intended to cause any offence.
"We have removed this text from the campaign immediately and apologize profusely for any offence it may have caused… We will not distribute the old leaflets and will only use the amended material."
According to the report, the sale of the 14,500 square foot former synagogue to the Muslim group, which has been active in the UK since 1995, is nearly completed.
The United Synagogue's chief operating officer, David Collins, told the news outlet that the deal was made with "robust due diligence processes."
"The buyer was selected after a full marketing exercise for the sale. All the serious bids for the property came from other faith groups and following due diligence, the highest bidder was chosen as would be expected by the Charity Commission," he said.