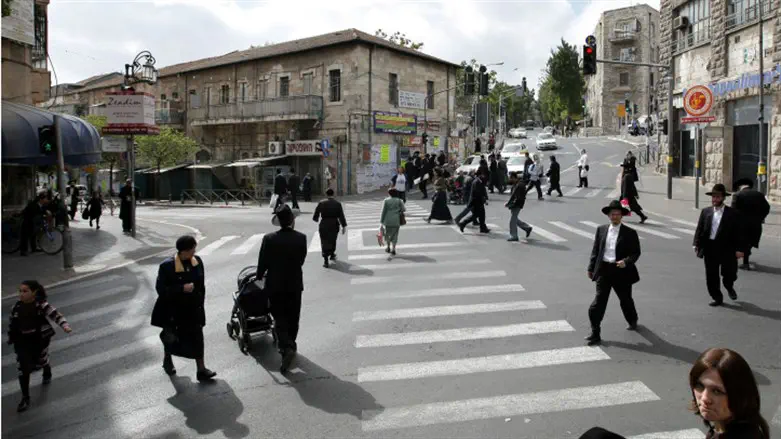 Kikar HaShabbat near the Meah Shearim neighborhood in Jerusalem
Kobi Gideon / FLASH90
The Shin Bet, Israel's secretive internal security agency, is operating clandestinely in one of Jerusalem's most prominent haredi neighborhoods, according to a report published Wednesday.
The BeHadrei Haredim news outlet reported that in the wake of a string of Arab terror attacks – including Friday night's deadly shooting outside a Jerusalem synagogue that left seven dead – the Shin Bet has been operating in the predominantly haredi neighborhood of Meah Shearim.
The Shin Bet activity in Meah Shearim, according to the report, is aimed at assessing whether any right-wing Jewish groups planned to carry out revenge attacks on Arabs have set up operations in the area.
Israeli security officials are concerned such rightist groups could either use Meah Shearim as a base of operations to attack nearby Arab neighborhoods to the east, or to target Arab workers.
The recent wave of Arab terror attacks, in particular Friday's synagogue massacre, have sparked fears in the Shin Bet's Jewish division of a repeat of the stabbing attacks targeting Arabs in the late 1990s.
From late 1997 through January of 1999, nearly a dozen Arabs were stabbed – three fatally – in the capital, mostly in and around the Meah Shearim neighborhood.
While police suspected the stabbings were revenge attacks by Jews, or possibly by a single serial stabber, the perpetrator was never identified.
One of the three men killed was Khairi Alqam, grandfather and namesake of the terrorist responsible for Friday's synagogue massacre, the younger Khairi Alqam.