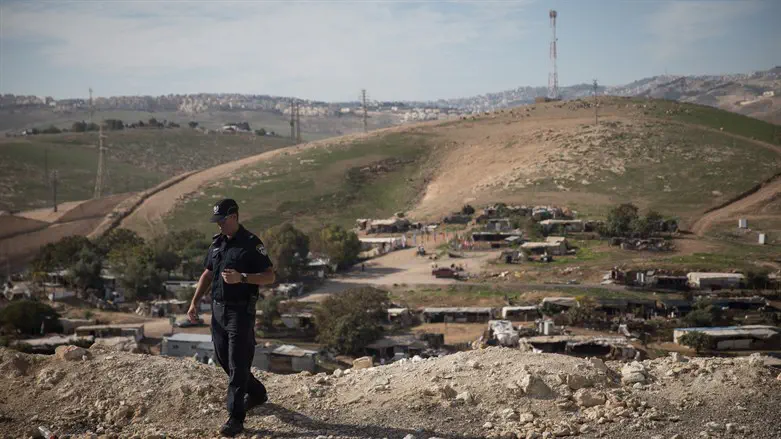 Policeman on hill overlooking Khan al Akhmar
Flash 90
The State of Israel is slated to respond Wednesday to a Supreme Court petition calling on the government to implement demolition orders against an illegal Bedouin town built on land belonging to an Israeli town east of Jerusalem.
For years, various Israel governments have requested the court allow them to delay the demolition of Khan al-Ahmar, built on state land belonging to the city of Ma'ale Adumim in the E-1 corridor, just east of the capital.
While the Supreme Court has rejected the residents' appeal and upheld lower courts' rulings ordering Khan al-Ahmar be evacuated, previous Netanyahu governments and the Bennett-Lapid government received deferments.
The watchdog group Regavim, which monitors illegal Arab construction, has repeatedly petitioned the Supreme Court to ensure that the demolition order is carried out.
On Wednesday, the state is required to respond to the Regavim petition, either pledging to carry out the demolition within a specified timeframe, or requesting yet another deferral.
Though past Netanyahu governments have sought to negotiate a voluntary evacuation of residents to a nearby site – complete with Israeli-funded infrastructure – residents have thus far rejected Israel's offers.
Now, with his right-wing allies pushing for Khan al-Ahmar's demolition, Prime Minister Benjamin Netanyahu is under increasing pressure from within his own government, especially after a deadly shooting attack outside of a Jerusalem synagogue over the weekend.
Even members of Netanyahu's own Likud party have openly demanded the government take action.
MK Danny Danon told Israel National News said the government must stop discriminating against unauthorized Jewish construction, and maintain a single standard for Jews and Arabs.
"I saw the speed and determination displayed when [they] evacuated an unauthorized [Jewish] outpost," Dannon said, referring to the recent demolitions of the Ohr HaHaim outpost. "Why isn't the law equal? What is the difference between Khan al-Ahmar and Jewish outposts? The law is the law and we need to uphold it without fear or concern."
MK Yuli Edelstein (Likud), chairman of the Knesset's powerful foreign affairs and defense committee, said during a visit to Khan al-Ahmar last week that Israel's control over Area C of Judea and Samaria is at stake.
"It's not just about Khan al-Ahmar, it's about the future of Judea and Samaria."