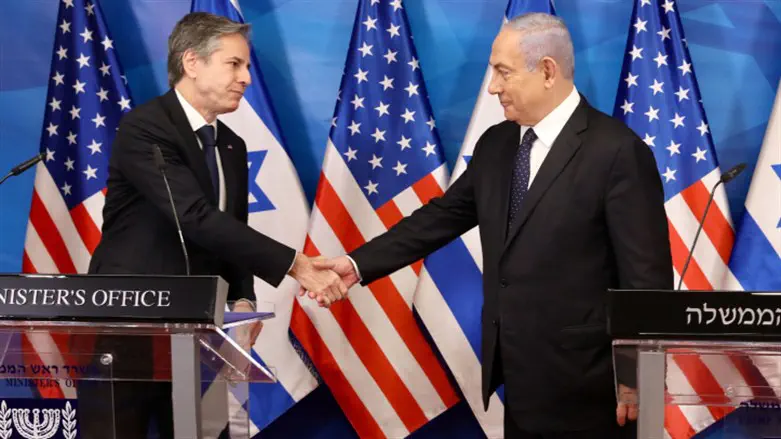 Antony Blinken meets Netanyahu
Marc Israel Sellem/POOL
"Inside Every Progressive is a Totalitarian Screaming to Get Out" ['Final Battle' by David Horowitz, Front Page]
"--it is both our obligation and our privilege to continue to strength our rich and glorious identity.--- We must never lose pride in who we are and what we are, or where we come from , or where we are headed ---our Jewish identity is what gives us the right to live here and my prayer is that we should know how to deepen this identity, how to rejoice in it ourselves and our children."[Smotrich in his address to the Knesset].
The well respected Victor Davis Hanson, FPM, asks the question, "What Caused the Anti-Trump Hysteria? " His answer, "The main perpetrators ignored the ancient law of "what goes around comes around."
He recalls Pelosi's rejection of Republican nominees and wonders how many Democrat House members should be denied committee assignments to remind the Congress of it. (Fast forward to Ilhan Omar) And how many congressional subpoenas with threats of criminal prosecution and performance-art arrests should be issued to Democratic politicos to end the criminalization of political differences?
Hanson asks many additional questions relating to the past negative actions by the Democrats against Trump and whether the Republicans should do likewise. To make the point, here are a few of the many:
[1]Release of tax returns.
[2] Asking whether the FBI infiltrated and contracted social media companies to warp news coverage and suppress free expression of American citizens.
[3] Did not the House impeach Trump in part because he warned the Ukrainians that Biden, a possible opponent in 2020, was likely corrupt?
The Biden administration has condemned Israel for giving PA pay for slay money to terrorist victims. They also have much negatively to say about Finance Minister Bezalel Smotrich, who has wisely responded with, "It is morally just and important for the war against terror. There is no greater justice than using the funds for the victims of terror."
Meanwhile, on WV News: "Thousands of Israelis take to the streets against the far-right government" which reports on the estimated 80,000 Israelis----including prominent politicians, officials from the judiciary, stroller-pushing parents, and several Jewish Arab coexistence groups--who braved a rainstorm ---at the city's Habima Square, hosting posters with slogans like "We won't become Iran" against proposed judicial reforms.
Now, the population in Israel in 2022 was 9,038, 309, so putting this number in perspective it means 0.89 % !
Concerning the proposed reforms, Supreme Court Chief Justice Hayut said at a conference, "This is an unbridled attack on the judicial system, as if it were an enemy that must be attacked and subdued." Instead of engaging useless rhetoric, she could have chosen the much needed electoral reform leading Israel back towards its pre-1995 representative democracy.
Benny Gantz, former defense minister told Netanyahu, "If you continue the way you are going, the responsibility for the civil war brewing in Israeli society will be on you."
"This is how democracy collapses, in one day" said opposition leader, Yair Lapid.
Netanyahu responded that disagreements are acceptable, but ,"you have to delineate the limits to the conversation---there is no permission to block roads or other things that impose harm on citizens."
One can't help recalling the well known historian, Victor Davis Hanson when discussing Donald Trump explaining that he should be judged on his accomplishments. The same can be said about Benjamin Netanyahu.
From Arutz 7: "Israel's new government is not anti-democratic, it is anti-progressive", skillfully authored by Alex Trainman on December 31, 2022.This extraordinary Op-Ed provides an early insight into all spheres of the new Netanyahu government. It makes one realize just how much work has already been undertaken in revolutionizing revisions.
It no longer demonstrates a rudderless entity where senior officials seldom made the public aware of real actions. It brings to mind the past history of the country from the day it gained sovereignty.
Those of us , the aged, who can recall WW2 and subsequently in 1948, celebrated the inauguration of the State of Israel, remember May 18, 1977, when Menachem Begin became the Prime Minister and his predecessor Golda Meir referred to the event as a "catastrophe." In fact, it was a catastrophe only for Israel's Labor establishment, which had held power for 29-years., bearing out Lord Acton's profound statement that "power corrupts and absolute power corrupts absolutely." It was as if Meir, Ben Gurion and their fellow Socialist travelers actually believed they were born to rule Israel forever." [Begin, his life, words and deeds by Zvi Harry Hurwitz].
Following the passage of the Golan Law by the Knesset, the US announced that that it would be taking punitive measures against Israel. This infuriated Menachem Begin, who in an unprecedented move summoned the American Ambassador Samuel Lewis and read to him from a prepared statement:
"Three times in the last 6 months, the US government has 'punishing ' Israel.-------[after attack on Iraqi nuclear reactor, after we bombed PLO headquarters in Beirut, after an overwhelming majority of two thirds passed the 'Golan Heights Law']-What kind of expression is this - punishing Israel? Are we a vassal state of yours? Are we a banana Republic? Are we youths of 14 who, if they don't behave properly, are slapped across the fingers?----"[Begin, his life, words and deeds by Zvi Harry Hurwitz]
As in those days, Netanyahu faces similar threats. "Blinken Warns Israel's New Foreign minister on Policies That Endanger 2-State Solution." US support for Israel is divided. In some cases , we even read, "American Jewish Leaders Should Stop Bemoaning the 'Death of Israel Democracy'.
We cannot ignore the fact that Jewish self-hatred is not a misnomer. People , these days, mostly live by perception. They don't bother to study the facts. A Jewish anti-Semite is not an oxymoron
When questioned "Are the Jews Indigenous to the Land of Israel?" we can answer in the affirmative, backed by indisputable, thousands-year-old historical and archaeological facts.
Strengthening Jewish identity is the optimum way to fight against the perpetuation of false narratives and lies. At its simplest, indigenous status stems from the genesis of a culture, language, and traditions in conjunction with its connections to an ancestral land, most commonly derived from ties to pre-colonial peoples. Having these attributes, a people are generally acknowledged as being indigenous .
The primacy argument promoting the false narrative that Jews are not indigenous to the Land of Israel is that they are actually the descendants of European colonizers. This can be easily rebuked. Recent studies support the notion that some 80% of Jewish males, and 50 % of Jewish females, can trace their ancestry to the Middle East. Early population genetics studies also confirm that "most Jewish Diaspora groups originated in the Middle East.
Throughout the years our leaders have failed to claim our rights to the Land of Israel. Instead the emphasis was on peace. The Arabs did the exact opposite and as a consequence, the Two-State "Solution" has not been buried.
In addition thereto, we still suffer from a dysfunctional parliamentary democracy due to the growth of judicial tyranny. Hopefully, Benjamin Netanyahu who in the past accomplished much, will engage in electoral reforms towards true representative democracy.