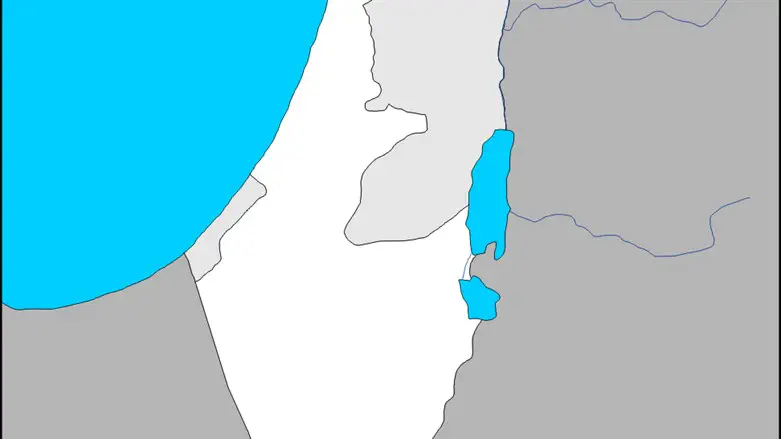 map of Israel (illustrative)
INN:map
A New York Regents exam given to students last week was slammed by its detractors for including one-sided anti-Israel questions.
The questions on the Jewish State were described as "unconscionable and shameful," the New York Post reported.
A group of Jewish leaders and organizations pointed in outrage to a section of last Thursday's Global History and Geography Regents II exam that contained maps of the Israel since its founding, and required students to answer two questions that implied a "dishonest" assessment of Israel, taken out of context.
"The maps lack all context," Jewish activist and founder of Americans Against Antisemitism Dov Hikind told the Post. "Specifically that border changes were the result of successive wars started by Arab states to annihilate Israel. Second, the questions, at best, lend themselves to debate, not to singular answers from among false choices."
Hikind added that the exam also contained the antisemitic trope that the Holocaust was the main reason for the creation of Israel and falsely claimed that "Zionists and Jewish immigrants" gained the most from "changing borders."
"When you show these maps, and ask why the state of Israel was created, it just attributes it to the Holocaust," said Hikind, who noted that the exam does not mention that the Zionist movement began in the 19th century.
He also ripped the exam for referring to the Golan Heights as being "annexed" by Israel.
Hiking described hearing from proctors who were outraged upon administering the exam.
Hikind, Brooklyn councilwoman Inna Vernikov, and Americans Against Antisemitism called on New York State Commissioner of Education Betty Rosa "to swiftly remove the disingenuous questions and conduct a thorough audit to ensure such egregious distortions of history that invariably lead to animosity for the sole Jewish state aren't being inadvertently fed to our children."
This was not the first anti-Israel question that caused outrage on a Regents exam, according to the report.
In 2017, an anti-Israel cartoon was found in the Global Studies Regents exam.