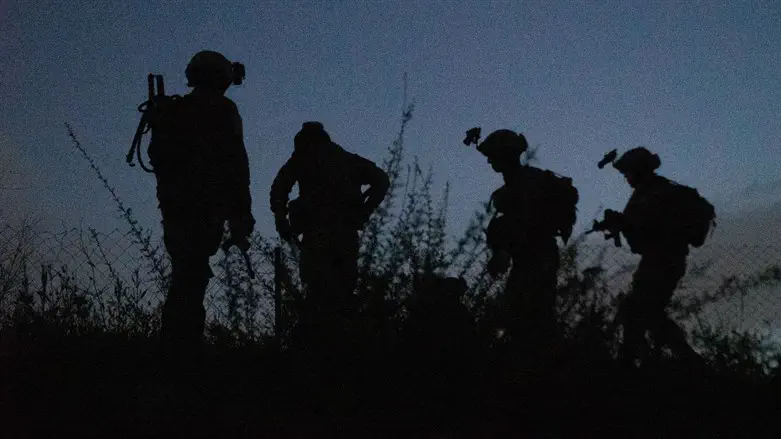 Archive: IDF counterterrorism activity
Photo: IDF
History may not prove favorable to President Biden, Secretary of State Blinken and their pro-Palestinian Middle East appointees until each takes the necessary public steps to correct a perception that seemingly open-ended monetary dealings with Palestinian National Authority President, Palestinian Liberation Organization Chairperson, and State President, Mahmoud Abbas may well be putting Israel and Jews' future in both the Middle East and America in jeopardy.
The unrestricted gift of huge sums of American taxpayer dollars to Abbas' organizations, without oversight appears to be aggravating the already existing existential threats stemming from Iran, Hamas, Palestinian Islamic Jihad and others of their ilk. "Death to Israel" and by extension to Jews must be taken seriously by the current president and his administration. Ignored and America will be facing a further destabilized Middle East heretofore on a potential war footing.
America can little afford another Afghanistan, or worse.
Martin Luther King once said "the arc" of the "moral universe" is long, but eventually "it bends towards justice." As regards Jews' unequivocal acceptance and safety, it has been a long time coming and unless circumstances radically change; it is not expected any time soon, especially in the face of the preceding combatives.
No other country in similar circumstances (responding to 4000 rockets from Gaza) would have had to endure such egregious disdain while the world basically stood silent.

This was dramatically demonstrated during and most prominently after the May, 2021, 11 days of fighting in the Gaza strip. The Israeli military response to the Gaza based thunderbolt launch of 4000 explosive filled rockets against Israel was unjustly maligned after pro-Palestinian press bought into purposeful misrepresentations. Articles appeared to mesmerize those who wish to believe only the worst of Israel and by extension, Jews. The after effects continue unchecked to this very day; when in effect Israel's only fault was protecting its country and citizens from deadly foes.
No other country in similar circumstances would have had to endure such egregious disdain while the world basically stood silent.
During the upcoming Passover remembrance, Jews will recount the details of their departure from 430 (some say 210) years of Egyptian captivity. Many, also will proclaim the eternal warning, lest we, Jews, become too comfortable to remember our turbulent past: "In every generation, they rise up against us, to destroy us."
There is no exaggerated paranoia emanating from today's Jews in Israel, America and elsewhere; as our history is replete with too many incidences of inclinations to eliminate us and erase our connection to our tiny refuge and indigenous heritage in the Middle East.
This time the threat is not from the Egyptians, but from the above named sources; directly or indirectly, and motivated by a history of sequential pogroms by various nations, all leading up to Hitler's "Final Solution."
Is our newest destroyer waiting in the wings of Iran? As frightening as that is, what makes it even worse is the seemingly lack of assurances from our ally, the United States, to have our back should circumstances eventually get out of control.
U.S. Representatives Ilhan Omar (D-MN) and Rashida Tlaib (D-MI) among others appear to actively promote a common disdain toward the Israel-Jewish-Palestinian American equation. Without apparent filters, antisemitic negative characterizations appear to fan flames of malice geared to the gullible. Pro-BDS (boycott, divestment and sanctions) terror tactics have an instant appeal to other recognized or would-be disparagers of Israel and Jews.
False racist, apartheid, ethnic cleansing and other defaming accusations are spewed like venom from a snake toward Israel and Jews; an act of hypocrisy especially when coming from black minorities whose very history somewhat paralleled that of Jews when the former sought relief from racist false labels.
Too much of today's psychological 'gaslighting' warfare by repetition of false narratives from both the right and left is reminiscent of tactics employed by Nazi Germany during the 1930s and '40's against its vulnerable populations. The intent then as well as now is to eliminate Jews; but currently adding the replacement of present day 'Israel and its Jews/ Christians and others who support them', with an exclusively Palestinian Arab State.
In essence, Jews appear once again vulnerable to the Passover, "In every generation, they rise…to destroy us" prophecy; should present day 'gaslighting' go unchallenged.
Bruce Portnoy, resides in the U.S.A, and is the author of the geopolitical thriller "First, the 'Saturday People', and then the ...," as well as op-ed contributor to: Israel National News/ Arutz Sheva; Jerusalem Post; Miami Herald; Washington Examiner and other respected media resources.