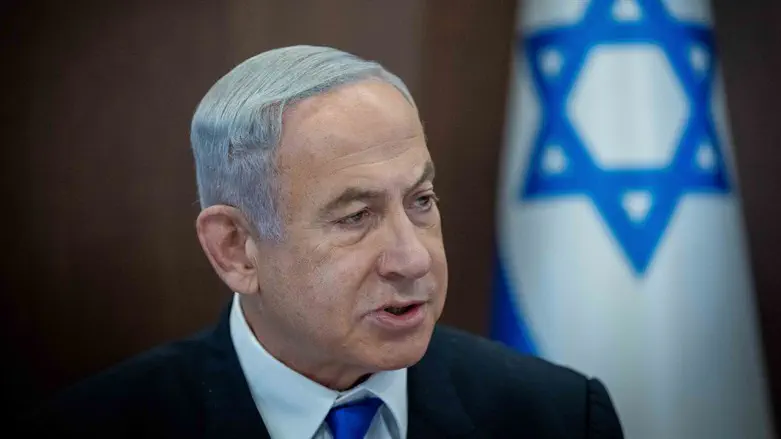 Netanyahu
Yonatan Sindel/Flash90
Prime Minister Benjamin Netanyahu and Finance Minister Bezalel Smotrich held a press conference this evening (Wednesday) in which they attempted to refute the Bank of Israel governor's claims that Justice Minister Yariv Levin's proposed judicial reforms could lead to a drop in Israel's credit rating and damage to its economy.
Foreign Minister Eli Cohen and Economy Minister Nir Barkat also participated in the press conference.
Netanyahu began by saying: "In recent days, I have been hearing concerns about the effect of the judicial reform on our economic resilience."
According to him, "The truth is exactly the opposite. Our moves to strengthen democracy will not only not harm the economy - they will strengthen it. They will return Israel to the legal status of most democracies, where Israel was fifty years ago."
He noted that "unnecessary legal processes have delayed infrastructural processes over the years, such as Route 6 and the high-speed train. Projects that have made the lives of millions of citizens easier and changed the face of the economy in Israel have been halted due to excess legalization. There is no reason for intimidation, there is no room for the irresponsibility of the opposition - which makes predictions through a tsunami of lies."
The prime minister added: "Our political opponents are trying to sow panic [in Israel] that will create panic in the world and harm us economically; after the reform is passed - the rule of law will remain as it is and so will democracy and the economy."
"We have seen this movie several times. In the previous decade, our political opponents warned that if we did not make far-reaching concessions to the Palestinians, it would affect Israel economically. In practice, the opposite happened: four peace agreements and economic growth. I say to the opposition, behave responsibly. Stop harming Israel's economy. I say to investors - keep investing in Israel, it will pay off for you," he concluded.